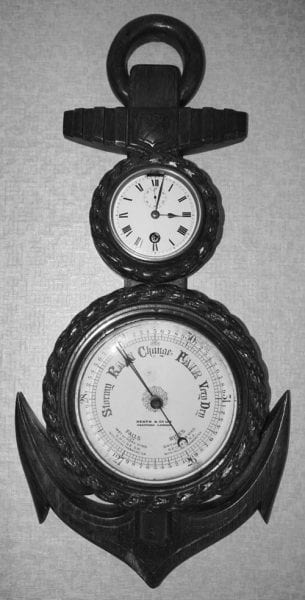 This rather splendid clock and barometer mounted in a wooden anchor graced a wall in my Grandmother's house and was regularly tapped by
everyone passing through the middle room. One day my Grandmother told me that the wood was oak from a famous war ship.
I really didn't think about that until many years later when I inherited it from an Aunt, together with a small attaché case which has given me many intriguing items from my family's past, though rather too many unlabelled photographs of people who are unknown to me. I discovered a small red circular box and when I opened it inside was a medallion with Horatio Viscount Nelson on one side and a ship on the reverse, around the edge
was "Foudroyant, Lord Nelson's Flagship" and underneath the ship:
"Commenced building 1789, launched at Plymouth April 1798, wrecked at Blackpool June 16, 1897"
And, around the bottom edge "medal struck from copper of vessel after breaking up"
So, I set about trying to find information about this strangely named English warship.
The original Foudroyant was a French vessel captured by the British Navy in 1758. When the English HMS Foudroyant was built in 1789, the design followed French practice rather than British, so she had 80 guns mounted on
two decks. She participated in a number of actions predominantly in the Mediterranean under several captains and admirals. Nelson commanded his fleet on HMS Foudroyant, from 6th June 1799 until the end of June 1801, seeing actions against the French off Naples, Sicily and Malta. HMS Foudroyant ended her naval days as a gunnery training ship at Devonport.
In 1891 she was placed on the Sales List and sold the following January to J Read of Portsmouth, who swiftly sold it to German shipbreakers. Because of her association with Admiral Nelson, there was a public outcry. Industrialist Geoffrey Wheatley Cobb bought her and used her as a training ship for boys. To offset the £20,000 cost of refitting etc, the ship was exhibited at a number of British seaside resorts, and on 16 June 1897, at Blackpool, bad weather proceeded to wreck the ship, which ended up on Blackpool beach, after first damaging the North Pier.