I was always intrigued by the address of my grandmother's childhood home which was a modest end of terrace home in Caversham, Reading. The name of her house was 'Adelaide Villas' and she and my great grandfather would have moved into the house sometime between 1884 and 1887 (from information in birth certificates). As far as I knew we had no Australian family connection. The house was probably newly built when my great grandfather bought it for his new coal merchant's business when Reading and Caversham were rapidly expanding so they would have named it – but why choose that name?
The side wall of the house still bears his name (Fisher) and the property continued as a coal merchant's property well into the 1960s. He used a horse and cart to deliver his coal although the property appears to have had little land attached, but it was not far from the river and grazing land.
I can remember visiting Reading once or twice as a child when we were on cross country journeys. Later in the 1970s my husband and I lived in St Patricks Hall on Northcourt Avenue and then in Earley for a total of 8 years. During that period, my father was investigating his Berkshire family history and we discovered that my great grandmother, Hannah Slugg, had been in domestic service in 1871 for an Ephraim Teakle, then aged 54 and his wife, Eliza in their home (Adelaide Villa) in Shortwood, Nailsworth, Gloucestershire. Ephraim was already retired by the age of 43 and although he was originally a native of Gloucestershire, he had been among the first free settlers in Adelaide in 1837.
Ephraim Teakle is such a wonderful name, I had to explore further and over the years I periodically extended my searches to increase my information about him. In 1837 as a young married man, Ephraim and his wife joined a large group from the local Baptist church congregation who sailed on the barque Katharine Stewart Forbes to Australia.
Their local area in Gloucestershire had been hit hard in the decline of the woollen industry. Adelaide was built as a free settlement rather than a convict colony, although the ship had previously been used for the transport of convicts. Ephraim was among several of his family who emigrated, and he joined an elder brother already there.
It seems that Ephraim quickly established himself as a local grocer and trader and he bought a trading vessel in 1850 called The Lapwing, from Mevagissey in Cornwall to trade round the coast to the Swan river settlement and to Melbourne. He sold her in 1852 to Adelaide merchants. Port Adelaide was his base and a section of land was named after him. He invested in property in Adelaide and was the owner of the entire Exeter subdivision of Port Adelaide, which was then known as Staplehurst. Ephraim clearly did very well in his new life at a time of rapid expansion in Adelaide and when the community was heavily dependent on imported goods.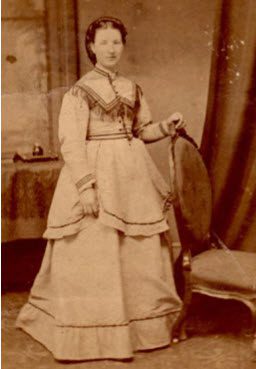 Ephraim returned to England and eventually retired back to his native community of Shortwood, in much improved circumstances. He appears there in the census for 1861 and subsequent censuses until his death in 1894.
He corresponded with his agent in Australia about his various continuing interests in property, copper mining and farming as is evident from surviving letters from 1865. The postal service took 7 weeks and the letters were counter-stamped by the local Post Office at Shortwood. These letters are essentially folded sheets of paper and have done well to survive as they were quite fragile. As the fastest post would take about 3 months including return, any business was done slowly or by proxy.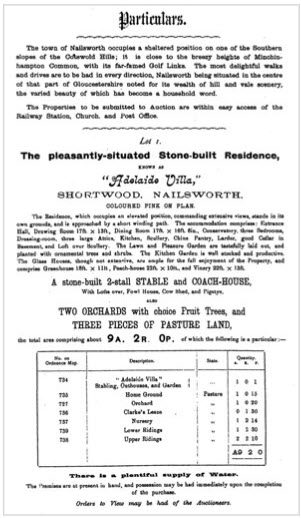 There is a copy of his will from 1894. He left most of his property in England to his wife, Eliza for her lifetime and the property and interests in Australia were left to his brother David on her death. Ephraim and Eliza did not have children as far as I am aware, but Ephraim left bequests to his wife's various nieces in Gloucestershire. His gold rings and chain and his portrait were bequeathed to David. He had several cottages in the Shortwood area and Adelaide Villa itself covered nine acres at that time. The property details from the sale after the Teakle deaths is shown here.
In February this year we were in the West Country and were able to find the site of the old chapel in Shortwood, where my great grandparents were married, and Adelaide House, no longer called 'Villa'. It is now split into 3 properties, but it was fascinating to actually see the house where great Granny had worked. I have an old photograph of what I believe to be her employers and they look a jolly pair, so I hope her time with them was happy. She must have had at least some fond memories to have named her own, new, home 'Adelaide Villas'. Whether being a servant in a large house was less onerous than being the wife of a coal merchant, with six children, we will never know.