Yattendon is a village and parish seven miles north-east of Newbury. The river Pang flows through the west of the parish.
Local place names
Everington, Burnt Hill (an eighteenth-century brick-making settlement)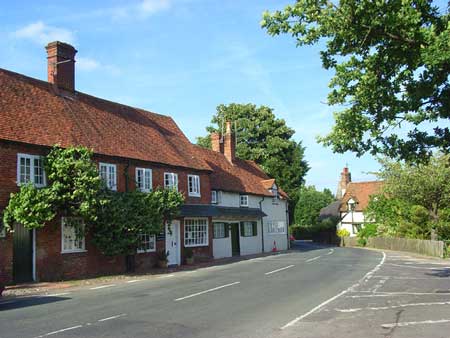 Cottages, Yattendon © Copyright Andrew Smith and licensed for reuse under this creative Commons Licence.
Size
1,400 acres (567 hectares)
Population
265 in 1851; 369 in 2011
Hundred
Faircross
Poor Law union
Bradfield
Registration district
Bradfield
Present-day local authority
West Berkshire
Grid reference
SU 55 74
Adjoining parishes in nineteenth century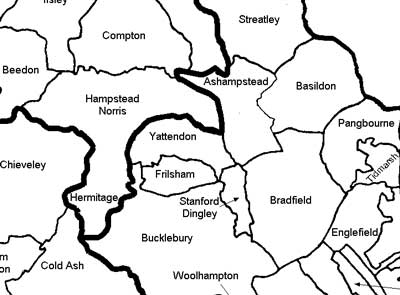 Genealogical resources
See Berks FHS Books for coverage of this parish in the society's range of CDs.
See also Berkshire Record Office holdings.
Published local history
G Timmins Yattendon: a village history (Lola Print, 2012)
J E Smith-Masters Yattendon and its church (Cornwall Press, 1929)
Links
The Yattendon estate website.
Anglican church and parochial organisation
Yattendon is a rectory in the archdeaconry of Berkshire, and in the diocese of Oxford. The church of SS Peter and Paul is Gothic, substantially remodelled in 1858-60.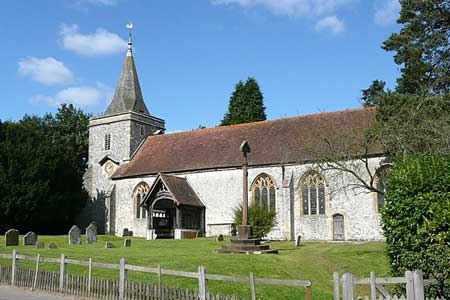 Other churches
Primitive Methodist chapels existed in Yattendon and Burnt Hill.
Schools
A National school existed in Yattendon in 1833, the forerunner of the present-day Yattendon C of E Primary School.
Pubs
In 1911 Cosburn's Directory recorded a pub called the Axe and Compass, as well as the Royal Oak, which survives today, and dates from at least the late eighteenth century.
Other local history
In medieval times Yattendon had a Tuesday market and, more recently, an October fair.
Lords of the manor included the fifteenth-century Norreys family, until they were succeeded by the Berties (earls of Abingdon). In 1876 the manor was bought by Alfred Waterhouse, the architect who built the Natural History Museum. He also built Yattendon Court, and a reading room for the village. The Iliffe family succeeded Waterhouse in 1925; they amassed the 9,000-acre Yattendon estate, famous for Christmas trees, and for its characteristic dark green paintwork. (It is said that the GPO could not keep the post and telephone boxes red because loyal locals would repaint them Yattendon-green in the night.) The Yattendon Group's other interests of property and newspapers are centred in the village.
The Yattendon Revels, celebrated on old St Peter's day (10 July), were said to commemorate  a battle fought in Yattendon Fields between King Alfred and the Danes. The revels included cudgels (single-stick fighting), wrestling and bowling, and flourished until Victorian times.
Famous Yattendon residents included the Poet Laureate Robert Bridges, the restaurant critic Egon Ronay, and the TV kitchen presenter Ruth Mott.
Yattendon has a microbrewery, the West Berkshire Brewery, founded in 1955.