West Challow is a small downland village and civil parish three miles west of Wantage, in the Vale of the White Horse.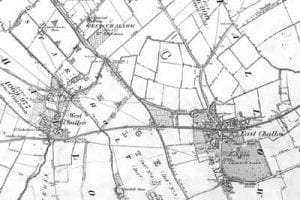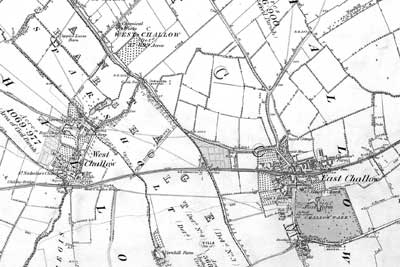 Historically both East and West Challow were part of Letcombe Regis, but in 1852 they split out as one separate ecclesiastical parish. Later, East and West Challow divided into two separate civil parishes. All three were part of Berkshire until the boundary changes of 1974 transferred them to Oxfordshire.
Challow railway station, on the Great Western Railway between Didcot and Swindon, was built on the Wantage-to-Faringdon road, two and a half miles north of West Challow. The station closed in 1964.
The Wilts and Berks Canal, from Trowbridge to Abingdon, which opened in 1810, ran through the village. Traffic had virtually ceased by the end of the nineeenth century. It is currently undergoing restoration.
Size
739 acres (299 hectares)
Population
184 in 2011; 231 in 1851
Hundred
Kintbury Eagle
Poor law union
Wantage
Registration district
Wantage
Present-day local authority
Vales of  the White Horse, Oxfordshire
Grid reference
SU 36 88
Adjoining parishes in 1851
Childrey, Denchworth, East Challow, Goosey, Letcombe Regis, Letcombe Bassett, Sparsholt
Genealogical resources
See Berks FHS Books for coverage of this parish in the society's range of CDs.
See also Berkshire Record Office holdings.
Published history
Violet Mary Howse West Challow: a parish record (1985)
Anglican church and parochial organisation
The parish church of St Laurence is Norman, the nave dating from around 1190. (It is incorrectly named as St Nicolas on the Ordnance Survey 6-inch map series updated to the 1880s.)
Pubs
Two pubs, the Prince/Princess of Wales Hotel and the Leather Bottle Inn existed in the mid-nineteenth century.
Other local history
Joan Vokins, née Bunce, a farmer's wife from West Challow, became an early Quaker leader. She travelled, preached and published extensively in England, the American colonies and the Caribbean, and was the sister-in-law of the much persecuted Oliver Sansom of Boxford. Manfred Brod has written her entry in the Oxford dictionary of national biography.
The GWR provided employment for five porters, a stationmaster and a railway policeman from the village in 1851. There was also a shop in the village at this time.