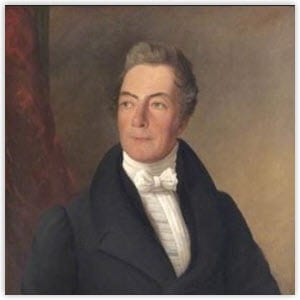 Robert Tebbott's Windsor had scarcely changed in centuries. Comprising just six streets around the castle, it was dilapidated, dirty, disease-ridden and frequently flooded. Rebuilding and modernisation to nineteenth-century standards was the achievement of Robert Tebbott, carpenter and builder, whose family had moved to the town from Croydon in the late eighteenth century.
Robert's father died when he was barely 19, obliging the boy to end his apprenticeship and take over the family building business. He married in 1816, but had lost both wife and first child by 1820. A second marriage in 1824 produced four daughters and one son.
Around 1820 the Prince Regent, about to become George IV, decided that Windsor Castle should be rebuilt as a royal residence. It had fallen into a ruinous condition since the seventeenth century when royalty no longer sought to live behind military fortifications. The contract for the work was awarded to Robert Tebbott by a somewhat questionable procedure, but hardly remarkable in the context of Windsor's antiquated civic administration. Tebbott was thus brought into close contact with George IV who, it was said, took no decisions on the work without consulting him. The original estimate of £120,000 soared to £1.2 million.
Tebbott was initially working with a stonemason, James Thomas Bedborough, who recently featured as an ancestor in Davina McCall's Who Do You Think You Are profile, although the family's belief that he was an illegitimate son of George IV was disproved. Tebbott's brief involved building what were in effect new suburbs to Windsor, in order to accommodate the castle servants. Land was bought from Eton College, a major local landowner, and the new streets were named to honour various royal personages. They were designed to reflect the hierarchy of the royal staff, separating the upper-tier – such as the court physician and butler – from humble housemaids and grooms. He was also responsible for building the castle's octagonal tower, renovating the queen's bedroom, and for both Datchet and Denham bridges.
Tebbott had two subsidiary careers: one as an auctioneer, and another as an undertaker. His coffin contracts encompassed Princess Charlotte, Queens Charlotte and Adelaide, Georges II and IV, and William IV. As an auctioneer, he specialised in selling off bankrupts' stock and, in particular, superfluous building materials. One such consignment was the railway which had to be specially constructed to transport the massive bier of George IV. From 1812, when he became one of Windsor's governing "brethren" Robert Tebbott ascended the social pyramid as alderman (1827), mayor (twice: 1818 and 1842) and as a justice of the peace (1830). Nonetheless, he may have lived frugally: the 1851 census (just after his death) recorded no servants in his household.
In his will, Tebbott left royal mementoes to each of his daughters, and the business to his son, Robert junior, who seemingly had no interest in running it. His will also specifically forbade his wife's family from entering the house.