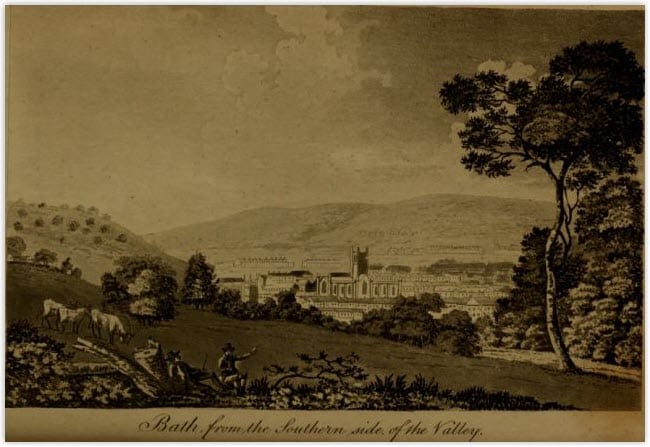 What sort of people took the stagecoach along the Great Bath Road in order to benefit from the health-giving mineral springs of Bath? One imagines folk of quality, delicate Jane-Austen-ish maidens, elegant matrons, dashing young officers perhaps – a stylish coterie of respectability, wealth and high fashion, governed by strict social conventions.
In an age when gentlemen and ladies often neither dined together, nor even shared the same church pews, Bath's communal facilities must have come as quite a shock for the first-time visitor. When Edward Ward travelled through Reading, Theale and Newbury to visit the famous city he observed a startling and deeply unattractive picture of the middle classes taking to the waters.
In this Bath was at least fifty of both Sexes, with a Score or two of Guides, who by their Scorbutick Carcasses, and Lacker'd Hides, you would think they had lain Pickling a Century of Years in the Stygian Lake: Some had those Infernal Emissaries to support their Impotent Limbs: Others to scrub their Putrify'd Carcasses like a Race-Horse.

In one Corner was an Old Fornicator hanging by the Rings, Loaded with Rotten Humidity; Hard by him was a Buxom Dame, Cleansing her Nunquam Satis from Mercurial Dregs, and the remains of Romast Vitriol. Another, half cover'd with Sear-Cloth, had more Sores than Lazarus, doing Pennance for the Sins of her Youth…

At the Pump was several a Drenching their Gullets, and Gormandizing the Reaking Liquor by wholesale.

From thence we went to the Cross-Bath, where most of the Quality resorts, more Fam'd for Pleasure than cures, tho' they pretend it hath wrought Miracles on Barren-Soil, and wonderfully helps Conception. Not long since, a Gentleman of Quality was beholden to it for an Heir, as he reported; but his Lady is of a Contrary Opinion…

Here is perform'd all the Wanton Dalliancies imaginable; Celebrated Beauties, Panting Breasts, and Curious Shapes, almost Expos'd to Publick View ; Languishing Eyes, Darting Killing Glances, Tempting Amorous Postures, attended by soft Musick, enough to provoke a Vestal to forbidden Pleasure, Captivate a Saint, and Charm a jove…

The Spectators in the Galleries, pleasing their Roving Fancies with this Ladies Face, Anothers Eyes, a thirds heaving Breasts, and Profound Air. In one Corner stood an old Letcher, whose years spoke him no less then threescore and ten, making Love to a young Lady, not exceeding fourteen.
After the diversions of the baths, the writer sits on a city-centre bench with a friend who supplies him with a commentary on the assembled company. One or two of the words may defy modern comprehension, but the imputations are unmistakeable.
Those two Ladies with the Gentleman in Blew, are Sisters, live near the Church that is Dedicated to a Saint who expir'd on a Gridiron, they are Amorous Dames;

The Gentleman is a Broken Officer, and lives better on their Allowances, than he could on his Pay;

This Gentlewoman in the White-Damask Gown, is a Sea-Captain's Lady, who, while her Corniferous Mate is Plowing the Ocean, takes Care to manure his Pasture, that he may have a Fruitful Crop this Harvest…

That Foppish Beau in Scarlet Stockins, whose Hilt of his Sword bears a bob with his Calves, and his Jubilee Hatband, lies stitch'd cross the Crown, was a Pettycoat-Pensioner to Madam C— near Bucklersbury, but being lately Discarded, is come down here for promotion…

That young Lady with the Gold Orice Pettycoat, was a great Fortune,and not long since was married to a Flannel Wastecoat, and a double Night-cap of the same Stuff; But now by reason of her Husband's Imbecility, is forc'd to have recourse to the Bath;

That tall Gentleman attended by three Liveries, is something of Quality, a right Courtier, for he abhors the Citizens' Wives as much as the SwordBearer does custard;

That Broad-piece Doctor, in the diminutive Band, makes a purchase every year by the Wickedness of the Age and Vindicates W—ing more than ever G. K— Writ against the Quakers;

That Pert young Gentlewoman with the two Silver Fringes, was compell'd by her Friends to Marry a Slovenly stockjobber, and now is surfeited with his Embraces; and came to the Bath to mend his Breed.

That Crafty Priest is as fickle as a Weather-Cock, and would sooner discard a good Conscience, then a fat Benefice;

This Tun of Iniquity, in the Crimson Gown with Monsieur at her Elbow, two Devils behind her, Aetna in her Face, all the Water in the Severn is not able to Quench her desires; she is a second Messalina, will tire, but ne'er be satisfied; she hath already quarter'd a Troop of French Dragoons, a Regiment of Dutchmen, and now is come to Exercise a Battalion of Brittains;

That Powder'd Lobster in the Edg'd Hat, is the Spawn of a Broker, from thence Evapulated to a Bully, now shams an Officer, sets up for a Stallion of the first Rank, and pretends he receives several Favours from a Qualitificated Lady;

That Spark with his Hat under his Arm, is a Limb of the Law, but hath Studied Chamberlin's Midwifry, more than Cook's Reports;

That Dowdy Minx in the Scarlet Topping, and Pinck'd Scarff, is the Relick of a broken Grocer, an Industrious Woman, for her Head's no sooner lay'd, but her Breech is at Work.
One wonders how those who went to Bath were able to return to their genteel homes with reputations intact.
For those who would like to read more of Edward Ward's experiences (which included some lechery in Newbury) his book A Step to Bath can be read online here
Penny Stokes
26 March 2019