Lyford lies in the Vale of the White Horse, four miles north of Wantage, in northern (old) Berkshire, relocated since 1974 in Oxfordshire. It was formerly a chapelry of Hanney. In a directory of 1868 the name of West Hanney described both East and West Hanney and Lyford. The area is richly fertile arable land. Below is an extract from the 1880s Ordnance Survey map showing the layout of the village.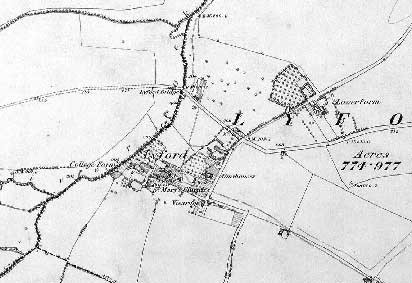 Size
The 1851 census gave Lyford's acreage as 773.
Population
140 in 1851; 44 in 2001 (2011 not available)
Hundred
Ock
Poor Law union
Abingdon
Registration district
Abingdon
Present-day local authority
Vale of  the White Horse, Oxfordshire County Council
Grid reference
SU 39 94
Adjoining parishes in 1851
Charney Bassett, Denchworth, East Challow, Fyfield, Garford, Hanney, Kingston Bagpuize, Longworth, Stanford in the Vale, Wantage
Genealogical resources
See Berks FHS Books for coverage of this parish in the society's range of CDs.
See also Berkshire Record Office holdings.
Published local history
Violet Mary Howse Lyford: a parish record
Anglican church and parochial organisation
The parish of Lyford is within the diocese of Oxford. The church of St Mary the Virgin was built during the first half of the thirteenth century, and was restored in 1875. In 1845 Lyford was made into a district chapelry. Today the ecclesiastical parish name is Lyford with Charney, and it belongs to the benefice of Cherbury with Gainfield.
Schools
According to Lysons Magna Britannia a free school was founded here in 1702. This was noted in several records of the 1830s, and the National Society's accounts for 1849 note a £10 grant to Lyford school.
Other local history
Lyford Almshouses, illustrated below, were founded by Oliver Ashcombe in 1611. They form an open quadrangle of 20 tenements and a chapel.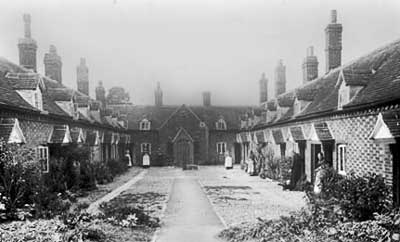 Lyford Grange was originally a moated manor house of Abingdon Abbey. In 1581 it was occupied by Edward Yate and his wife. Here, in defiance of royal proscripton and vigorous persecution,the Yates entertained Catholics, including Edmund Campion, the Jesuit. A warrant for his arrest followed him to Lyford, where he was captured, along with two lesser-known priests. All were tortured and then executed at Tyburn for their faith. Campion was canonised in 1970.
Lyford remained a centre of Roman Catholicism for some time. In 1690 an informer discovered that a small estate at Garford had been granted for the purpose of erecting a nunnery at Lyford, "when Popish times should come".