Inkpen is a village and civil parish in West Berkshire about 3.5 miles (5.6 km) south-east of Hungerford, bordering Wiltshire and Hampshire. The parish lies within the North Wessex Downs Area of Outstanding Natural Beauty, and it contains Inkpen Beacon (also known as Walbury Beacon), at 974 feet the highest point in south-east England.
Hundred
Kintbury Eagle
Poor Law union
Hungerford
Present-day local authority
West Berkshire
Grid reference
SU 36 64
Adjoining parishes in 1851
Hungerford, Kintbury, West Woodhay, Combe (formerly Hants), and Shalbourne (Wilts after 1895)
Size
2,886 acres (1,250 hectares)
Population
755 1851): 851  in 2011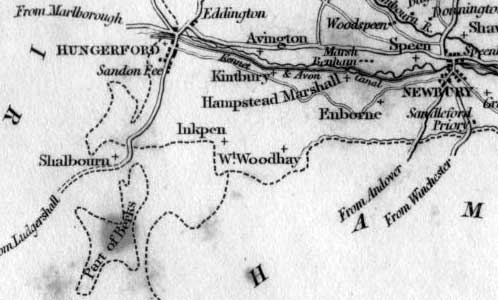 (SW Berkshire mapped in 1840)
Genealogical resources
See Berks FHS Books for coverage of this parish in the society's range of CDs.
See also Berkshire Record Office holdings.
There is an online index to MIs in the old and new burial grounds of St Michael's, and also of the Methodist chapel.
Published local history
E A Martin Inkpen remembered (1994)
G Timmins Inkpen a village history (2010)
Links
Parochial organisation and churches
The parish lies within the deanery of Newbury and the archdeaconry of Berkshire, which transferred from Salisbury diocese to that of Oxford in 1836.
The parish joined the united benefice of Enborne, Hamstead Marshall, Combe and West Woodhay under one rector in 1981. More recently this united benefice joined with Kintbury and Avington, and is now known as the Walbury Beacon Benefice.
The church of St Michael and All Angels, pictured below, is partially thirteenth-century, and underwent Victorian modernisation. The old rectory is seventeenth-century.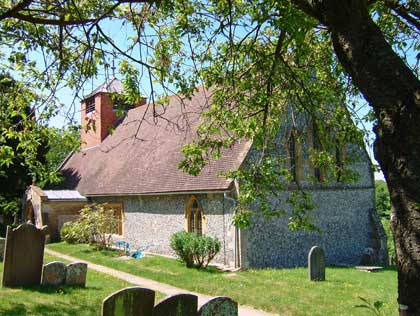 Other churches
A Wesleyan Methodist chapel opened in 1833, followed by a replacement building in 1872, which continued to operate into the twentieth century. There was also a Primitive Methodist chapel just south of the Swan Inn; it closed in Edwardian times.
Schools
Inkpen had a daily school and a Sunday school in 1818.
A charity school was built and run by the Johnson family in 1842, but it closed when they left the village in 1859.
Another school set up by the rector in 1850 became a Board school after 1870. Today's Inkpen Primary School still occcupies this 1850 building.
The Wesleyan Methodist chapel added a schoolroom to its buildings in 1893, but this closed, and it is now a private house.
Other local history
The area has always been predominantly agricultural, much of it owned by the Craven estate. The common fields were enclosed by agreement in 1733, and a considerable amount of open heath was enclosed by Parliamentary Act in 1810-15. There are still 30 acres of heathland in the village, originally a Poor's Allotment, now protected as a nature reserve. The village is renowned for its wild crocus field, said to have been blooming annually since the time of the Crusades, and to have been associated with the Knights Templar.
There were formerly six or eight potteries in the village; the clayworkers were known locally as "yellowlegs". A sawmills flourished until 1970 (it is now a small industrial estate). Basket-making, rope-making, silk and wool weaving were also carried out in Inkpen. Pottery Road and Weavers' Lane still exist.
The village hall, pictured below, was built in 1924.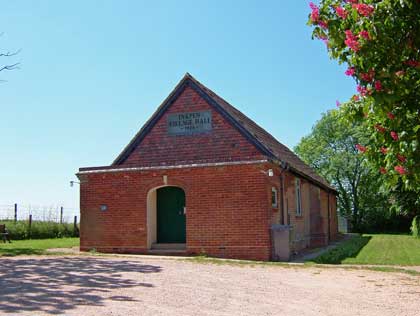 Until the mid-twentieth century the village also boasted a band and choir. The former shop and post office are closed. Today, Inkpen's only pub is the Crown & Garter, the Swan having closed (permanently or temporarily?) in 2018.
The largest house of the parish is the eighteenth-century Kirby House (with the 500-acre Kirby Farm), at various times owned by the Brickenden and Butler families, and now by the Astors.
Inkpen is blessed with many miles of footpaths, and has a well known association with Combe Gibbet, in the neighbouring parish of Combe.
In the late 1940s a film was made by the (then) young, (now late) John Schelsinger, entitled Black Legend. It told the story of a grisly seventeenth-century crime, whose perpetrators were hanged and then displayed on Combe Gibbet. The film starred Robert Hardy and a cast of Inkpen villagers. It is occasionally shown in village halls.