Coverage
The historic Royal County of Berkshire, This consists of any place or parish that is or ever has been part of the county regardless of the various boundary changes that have taken place over the centuries. The most significant was in 1974, and the majority of records precede that.

Info
Some of the society's transcriptions can be searched online on FindMyPast. Almost all of the original registers for 'old' Berkshire are held at Berkshire Record Office in Reading, including those for parishes of North Berkshire and the Vale of the White Horse, which became part of Oxfordshire in 1974

Berkshire FHS CDs
The latest editions of county-wide data CDs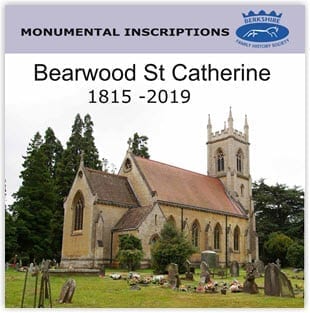 Bearwood, St. Catherine Monumental Inscriptions 1815 - 2019 CD lists the names of over 1,600 people, and holds transcriptions of their monuments and memorials within the church and churchyard. There are photographs of every extant monument and interactive plans to show the locations of the memorials.
Read More

Berkshire FHS Local CDs
List of the latest editions of local data CDs - click on a name in the first column to go to the shop
Name
Description

Parish Registers

Barkham St James
Baptisms 1538-1986, Marriages 1538-1988 and Burials 1538-1985
Bearwood St Catherine
Baptisms 1846-1949; Banns 1851-1980. Marriages 1846-1979 and Burials 1846-1929
Bearwood St Catherine
Monumental Inscriptions 1815-2019
Binfield All Saints
Transcriptions and indexes of baptisms 1551-1979, banns 1754-1984, marriages 1538-2009, burials 1538-1957, excommunicants 1676-1696, a burial plot listing based on register content, and a history of the parish with details of other sources for Binfield.
Bradfield, St Andrew, Parish Registers & Tutts Clump BMDs
Bradfield: Baptisms 1539-1962. Marriages 1559-1989, Burials 1540-1952 and Banns 1799-1980. Methodist Chapel: Baptisms 1873-2002, Marriages 1921-2006 and Burials 1908-2006.
Brimpton St Peter
This CD contains a full transcription of the parish registers, a brief history of the parish and is fiully indexed. The coverage is Baptisms 1607-1982; Banns 1754-1982; Marriages 1607-1981 and Burials 1607-1982
Burghfield St Mary
Methodist Chapel: Baptisms 1873-2002, Marriages 1921-2006 and Burials 1908-2006
Childrey St Mary
Baptisms 1558-1927, Banns 1755-1912, Marriages 1558-1928, Burials 1558-1883
Clewer St Andrew
Includes Bishops Transcripts (CMB) 1607-1635; Baptisms 1653-1860; Marriages 1674-1837; Banns 1764-1784 and 1803-1814; and Burials 1663-1837. Edition: 1
Combe St Swithun
Baptisms 1560-1871, Marriages 1560-1985, Banns 1755-1966, Burials 1560-1871 plus list of inhabitants 1782 & 1788
Compton SS Mary & Nicholas
Baptisms 1553-1925, Marriages 1553-1963, Banns 1755-1955, Burials 1553-1901
East Ilsley St Mary the Virgin
Baptisms 1608-2003, Marriages 1608-1978, Burials 1608-1868
East Lockinge All Saints
Baptisms 1546-1897; Marriages 1546-1836, 1862-1866; Banns 1754-1800; Burials 1546-1813, 1862-1866.
Farnborough All Saints
BTs 1607-1738 (not all years), Baptisms 1739-2004, Marriages 1739-2006, Banns 1822-2002 & Burials 1739-2002
Fawley St Mary
Baptisms 1540-1987; Banns 1754-1923; Marriages 1545-1984; Burials 1550-1987
Grazeley Holy Trinity
Baptisms 1850-1963; Marriages 1850-1987; Banns 1850-1954; Burials 1851-1964.
Kintbury St Mary
Baptisms 1558-1953, Banns 1754-1932, Marriages 1557-1981, Burials 1558-1972
Hurst St Nicholas and Winnersh St Mary the Virgin
Hurst Baptisms 1585-2002; Banns 1847-2005; Marriages 1585-2005; Burials 1585-2003; Winnersh Baptisms 1966-2001; Marriages 1967-1999
Little Wittenham St Peter
Baptisms 1538-1991; Marriages 1538-1986; Burials 1543-1992 and Banns 1757-18811, 1824-1986
Purley St Mary, Sulham St Nicholas &Tidmarsh St Laurence
Purley Baptisms 1607-1985; Marriages 1607-2005; Burials 1607-1985; Sulham Baptisms 1607-1980; Marriages 1607-2001; Burials 1612-1983; Tidmarsh: Baptisms1608-1980; Marriages 1609-1999; Burials 1608-2007.
Reading Greyfriars
Baptisms 1864-1957; Marriages 1866-1965; Banns 1866-2002
Reading, St Giles, Parish Registers (also St Lukes, St Michaels & All Saints and St Agnes)
Baptisms 1564-1990, Marriages 1564-1991, Banns 1754-1997, Burials 1564-1895 & Funerals 1955-1990 (Includes baptisms for St Lukes 1878-1912, St Michaels and All Saints 1901-1918 and St Agnes 1904-1918)
Reading St Laurence
Baptisms 1605-2005, Marriages 1605-1963, Burials 1605-1910 and Banns 1654-2000
Reading St Luke
Baptisms 1878 - 1956, Marriages 1909-1965 and Banns 1909-1965.
Reading St Mary
Baptisms 1813-1954; Banns 1811-1952; Marriages 1813-1954; Burials 1813-1942 and Funerals 1947-1995 (prior to 1813 is available but not published by BerksFHS)
Remenham St Nicholas
Baptisms 1605-2006; Marriages 1605-2004; Banns 1754-1807; Burials 1605-1909
Sparsholt Holy Cross
Baptisms 1558-1944; Marriages 1558-1972; Banns 1754-1791 & 1823-1878; Burials 1558-1865
Speenhamland St Mary
Baptisms 1831-1971; Banns 1847-1963; Marriages 1847-1972; Burials 1831-1881 and Funerals 1953-1971
Swallowfield All Saints
Baptisms 1607 - 1928, Marriages 1608 - 1926, Banns 1754 - 1962, Burials 1539 - 1931
Theale Holy Trinity
Baptisms 1832-1947. Marriages 1833-1964, Burials 1832-1932, Banns 1924-1968
Tilehurst St Michael
Bapts 1559-1946, Marrs 1614-1986, Banns 1823-1991, Burials 1614-1941
Wargrave St Mary
Baptisms 1538-2003, banns 1755-1995, marriages 1539-2008 and burials 1538-2007
West Ilsley All Saints
Baptisms 1558-1870, Marriages 1558-1839, Banns 1809-1899, Burials 1558-1967

Local Monumental Inscriptions

Aldermaston St Mary
Gravestone and other inscriptions from Aldermaston, St Mary the Virgin 1533-2002
Ascot Heath All Saints 1867-2009 & Priory Rd 1901-2007
This CD includes transcriptions and PHOTOGRAPHS of the extant memorials. An introduction to the church, its burial ground and the Priory Road extension is given. A master name index is included. Plans of the churchyard and Burial Ground are given.
Bearwood St Catherine
Monumental Inscriptions 1815-2019
Burghfield St Mary the Virgin
Coverage is from the church 1327-2016 and from the churchyard 1735- 2016. Lists the names of almost 1,700 persons with transcriptions of their monuments and memorials, and photographs of every extant monument with plans showing the locations of the plots.
Caversham St Peter
The inscriptions on this CD range from 1664 to 2003.
Crowthorne St John 1863-2011 inc burials at Broadmoor Hospital
Transcriptions of all extant memorials, including many colour photographs; an interactive plan; an introduction to the church; and details of memorials in the churchyard and with additional memorials to some burials in the grounds of Broadmoor Hospital.
Drayton St Peter 1451-2015
The names of almost 1,400 people and transcriptions of their monuments and memorials within the church, in the churchyard and in the nearby Municipal Cemetery are given. Photographs of graves and gravestones were taken during the transcripton are included
Knowl Hill St Peter 1842-2002
Gravestone and other inscriptions from Knowl Hill, St Peter
Reading London Rd Cemetery
Reissue on CD of transcriptions of the extant memorial inscriptions and maps of London Road Cemetery. The gravestones and other memorials in the cemetery record approximately 14,500 people from 1843 onwards, and this CD holds transcriptions of their monuments and memorials.
Sulhamstead Abbots St Mary, Sulhamstead Bannister St Michael and Ufton Nervet St Peter
Includes transcriptions and photographs of the monuments and memorials within both the churches and in all three churchyards: Sulhamstead Abbots, St Mary 1731-2013; Sulhamstead Bannister, St Michael 1736-2011; Ufton Nervet, St Peter, 1560-2011.
Shaw-cum-Donnington St Mary 1686-2011
This new CD includes transcriptions of all the extant monumental inscriptions and a name index. A note of the history of the church is given. Plans and general photographs of the burial ground are included.
Wokingham All Saints 1520-2006 inc Norreys Ave extension
This CD includes transcriptions of all the extant monumental inscriptions together with PHOTOGRAPHS. The history of the church and its burial ground (including the Norreys Avenue extension) is given. Plans of the burial ground are included.
Wokingham Baptist, Methodist and Free Churches Burial Ground 1811-2009
This CD includes transcriptions and PHOTOGRAPHS of the extant monuments.
Baptist Church 1811-2008
Methodist Church 1870-1913
Free Churches 1916-2009
Wokingham St Paul 1864-2012
Lists the names of almost 2,600 people , and holds transcriptionsof their monuments and memorials within the church and in the churchyard.
Wokingham Without version 2, St Sebastian 1866-2014, Borough Council Cemetery 1958 - 2016
This CD lists the names of almost 2,200 people, and holds transcriptions and photographs of their monuments and memorials with the church, the churchyard and the adjacent Wokingham Borough Council cemetery.

Berkshire Monumental Inscriptions

Berkshire Monumental Inscriptions Collection - Volume 1

Reissue on CD of transcriptions of the extant memorial inscriptions and maps of the burial grounds of the churchyards of Aldworth, Ashampstead, Lower Basildon, Midgham Park, Reading St Laurence, Remenham, Shippon, and Woolhampton
Berkshire Monumental Inscriptions Collection - Volume 2
Reissue on CD of transcriptions of the extant memorial inscriptions and maps of the burial grounds of the churchyards of Beech Hill, Caversham Victoria Road/Hemdean Road, Eddington, Goosey, Lyford, Midgham, Mortimer Baptist, Newbury St Nicholas, Newbury URC and Oare.
Berkshire Monumental Inscriptions Collection - Volume 3
Provides data of over 4,500 people from several churchyards previously available only on fiche: Avington; Enborne; Grazeley (new); Grove; Hungerford St Lawrence; Reading Baptist burial ground; Shurlock Row All Saints (new); Theale and Winterbourne.

Other CDs

Joseph Toomer's census of Newbury 1815
Full transcript and index plus brief history of the "House of Toomer"
Please see the Shop site for Poll books, Electoral Register and Directories