Reported by Bryan Pledger
Many key figures in aviation history have ties with Woodley and this fascinating talk used the names of streets as the basis of their stories.
The first recorded use of this site was in 1913 when French aviator Henri Salmet made two visits using a Blériot monoplane for 'joy rides' to Woodley.
F. G. Miles met Blossom when she came for flying lessons and although already married she eventually got divorced and married him. She became a qualified pilot in 15hrs 17mins. On seeing Woodley Airfield they bought it. Philips & Powis decided to develop the site in late 1928 as a viable aerodrome and to start a flying school.
Thomas Rose a British flying ace in WW I won the King's Cup Air Race in 1935. He flew from London to Cape Town in 3 days 17 hours 37 mins and from 1939–45 was Chief Test Pilot with Phillips & Powis Aircraft Ltd, renamed Miles Aircraft Ltd in 1943.
The Miles Company closed in 1948. Between 1943 and 1946 it undertook research work that led to the Miles M52. All the drawings, when it was scrapped, were given to Bell Aircraft Company to design a supersonic airplane that led to Concorde. At 10.52am every day it flew over Woodley on its way to the USA. Miles Way, Rose Close and Concorde Way are reminders.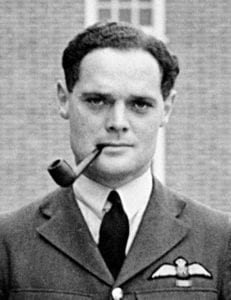 Bader Way is named after Douglas Bader who on 14th December 1931 flew to Woodley Airfield and attempted to fly a roll over at low height but crashed. Leonard Joyce saved his life but Bader lost both legs. In August 1941 he was shot down and during the bailout lost one of his wooden legs. Eventually, a new one was dropped to him. He kept trying to escape and was sent to Colditz and was liberated by US troops. He worked for Shell and for disabled charities. He was played by Kenneth Moore in the film "Reach for the Sky".
Blanchard Close commemorates Frenchman Jean Pierre Blanchard who in 1783 made the first manned balloon ascent from Paris and was first to cross the English Channel in 1793 with a 21/2 hour flight. In 1808, whilst airborne, he had a heart attack over the Hague, fell from the balloon and died a year later.
Henri Farman was born in Paris and set numerous official records for both distance and duration including the first to fly a complete circuit of 1 kilometre (1908). The Farman Aircraft Company's 1914 model was used extensively for artillery observation and reconnaissance during World War I and Goliath was the first long-distance passenger airliner, beginning regular Paris-London flights on 8th February 1919. There is a road in Paris called Rue Henry Farman and here Farman Close.
Harris Close is named after Arthur "Bomber" Harris. No medals were awarded to the crews due to his controversial bombing campaigns during WW2. Only in 2012 was a memorial unveiled in Green Park to the men. What is forgotten is that Bomber Command dropped 7,000 tons of food to the starving population of Holland at the end of the war. It could also be that it commemorates Thomas Harris a balloonist who in 1824 flew from London but due to problems needed to discard ballast. He threw everything overboard, eventually including himself, to save the life of his female companion. He died but she survived.
Reginald Mitchell worked for Supermarine Aviation. Between 1920 and 1936 he designed many aircraft which culminated in the seaplane Supermarine S.6B, winning the Schneider Trophy competition in 1931. He also designed the Spitfire, the prototype of which flew for the first time on 5th March 1936 at Eastleigh and was capable of 394mph. He did not see it enter service with the RAF, however, as he died on 11th June 1937 aged 42 from bowel cancer. Mitchell Way and Spitfire Way are reminders.
Dowding Close named after Hugh Dowding a WW1 fighter pilot. He pushed for the development of radar, radio and bullet proof windscreens for the fighters in WW2. Head of Fighter Command, including in the Battle of Britain, he was forced to retire from the position in 1940 after being criticised professionally.
Lindberg won $25,000 when he flew non-stop across the Atlantic in 331/2 hours. In 1932 his baby was kidnapped and killed. In 1936 Lindberg came to Woodley and tested a Miles M12 Mohawk for use as a fast high flying plane. Lindberg Way and Mohawk Way are reminders.
Mollison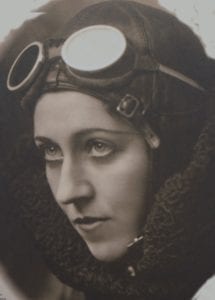 Close is named after either Mr or Mrs Mollison. James Mollison (1905 – 1959) was a Scottish pioneer aviator who at 18 was the youngest officer in the RAF and at the age of 22 became a flying instructor. In July -August 1931, Mollison set a record time of 8 days, 19 hours for a flight from Australia to England, and in March 1932, a record for flying from England to South Africa. He met Amy Johnson who was a pilot at 22 and proposed within 8 hours of meeting. They were very competitive with her breaking his South Africa record but this competitiveness led to their divorce after 6 years and he lost his pilot's licence due to his drinking. She died in 1941 when the aircraft she was delivering crashed.
November 2019