. In the Middle Ages it was named Hampstead Sifrewast after its Norman lord, changing to Hampstead Norreys in 1450, when the village was acquired by the Norreys family from Bray. The Norris spelling was used more in the past, but Norreys tends to prevail today.
Until 1840 Hampstead Norreys included Hermitage with its hamlets of Wellhouse and Little Hungerford. Hermitage became an ecclesiastical parish in its own right in 1840, and has grown to be a much larger settlement.
Hampstead Norreys also included the hamlets of Eling, Bothampstead, Langley and World's End. Other local place names include Hollingsworth, St Abbs/Ebbs, Water St, Mudgate, Wyld Court, Hatch Gate, Painters Coppice or Wood End and Flood(s) Cross. World's End, formerly Hampstead Norreys, is now in Beedon.
Farms past and present include Oakhouse Farm, Manor Farm, Wyld Farm, Wyld Court Farm, Lower Farm, Haw Farm, Buttonshaw Farm, and Langley Farm.
The Didcot, Newbury and Southampton railway, running north-to-south through the village, opened in April 1882. The village station stood near Water Street. The line closed in the mid-1960s, and the track lifted.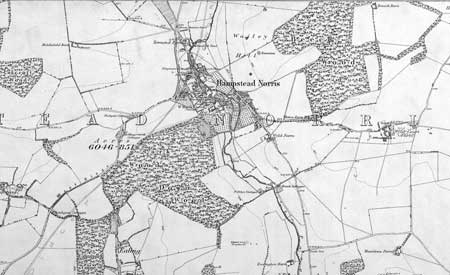 Size
6,046 acres (2,447 hectares) when it included Hermitage
Population
1,323 in 1851 (still counted with Hermitage); 832 in 2011 (without Hermitage, which was 2,157)
Hundred
Faircross
Poor law union
Wantage
Registration district
Wantage
Present-day local authority
West Berkshire
Grid reference
SU 52 76
Adjoining parishes in 1851
Aldworth, Ashampstead, Beedon, Bucklebury, Chieveley, Compton, East Ilsley, Frilsham, Thatcham and Yattendon
Genealogical resources
See Berks FHS Books for coverage of this parish in the society's range of CDs.
See also Berkshire Record Office holdings.
Links
Published local history
Roger Chapman Record of the history and inhabitants of Hampstead Norreys parish: village properties and families 1700 – 1900 (1990)
Walter Money Collections towards a history of the parish of Hampstead Norris (Newbury District Field Club, July 1885)
Anglican church and parochial organisation
Hampstead Norreys lies within the deanery of Newbury and the archdeaconry of Berkshire, which transferred from Salisbury diocese to that of Oxford in 1836.
The church of St Mary the Virgin is of twelfth-century origin, with fifteenth- and nineteenth-century additions. The living is a vicarage, formerly in the gift of the Marquis of Downshire.
A chapel of ease was built about 1835 at Hermitage in the south of the parish. In 1840 Hermitage was formed into a separate ecclesiastical parish.
There was also a chapel of ease at Langley (near World's End) in 1806, but it had disappeared by 1839.
Other churches
The 1851 census enumerated a Primitive Methodist preacher, and both a directory of 1869 and the Victoria County History of 1920 found Wesleyan and Primitive Methodist chapels.
Schools
The parliamentary return of 1819 found only a Sunday school in Hampstead Norreys, but a free school existed in the parish by the mid-nineteenth century, and the 1851 census enumerated three schoolmistresses. Berkshire Record Office holds documentation for a National school from 1845.
Today, near the church is Hampstead Norreys C of E Primary School.

Pubs
The 1851 census enumerated a licensed victualler and a beerseller.
In 1911 the village (excluding Hermitage) had the Langley Hall and the New Inn at World's End, the White Hart, the Railway Hotel, and the Coach and Horses. Other pub names in Victorian directories include the Hare and Hounds, Horse and Jockey (possibly another name for the New Inn).
Of these, the seventeenth-century White Hart  is the only survivor today.
Other local history
Wyld Court was for many decades a well-known racehorse stud. Today it houses an ecological institution called the Living Rainforest.
During the Second World War Hampstead Norreys had an RAF Bomber Command airfield, which was bombed during the Battle of Britain in 1940. After the war the station became an ammunition storage depot. Today all that remains are some pillboxes, air raid shelters in the woods, and part of the bomb storage site.