George Thomas Barlow was born on May 9th 1870, the eldest child of Charles and Louisa (nee Wyatt) Barlow. In the 1871 census the family was living at Little End, Caversham (this is the area around the top of Prospect Street). Two years later the family experienced a traumatic upheaval. After giving birth to a daughter, (who they) christened Emily, Louisa and the baby both died.
In 1874 Charles married Martha Dobson and the couple went on to have 7 more children, Fanny (1875), Emily (1877), Alice (1879), Charles (1881), Edith (1884), Alfred John (1888) and Mabel Ellen (1890).
Little is known of George before he joined the Army, but he was working as a labourer for Huntley, Boorne and Stevens, the biscuit manufacturers immediately prior to enlisting.
George initially enlisted into the 3rd Battalion of the Royal Berkshire Regiment in Reading on July 18th 1888. This was a unit that administered and trained men who had joined the Militia, which was a form of part-time service. His address then was given as 50 Sidmouth St. Reading.
George re-enlisted into the Medical Staff Corps in Aldershot on October 25th 1888. He then spent the next 8 years of peacetime service in Britain.
On July 2nd 1892 George married Annie Elizabeth Henbest at South Stoneham, nr. Southampton. They had 2 children, Charles William (1892) and Bessie Edith Gertrude (1894).
After serving eight years on home soil George finally received orders to prepare for an overseas posting. From Aldershot he proceeded to Gravesend and on October 20th 1896 sailed on the P&O Ship SS Sunda bound for Hong Kong, arriving there on December 3rd 1896. It appears that once in Hong Kong, he was posted to join the staff of the HMS Mecanee which was used as a moored floating hospital.
Between 1899 and 1901 there was a series of events in China known collectively as the 'Boxer Rebellion'. On June 6th 1900 George was appointed to the nursing section of the RAMC (Royal Army Medical Corps). It appears that this was preparatory to him joining the 'North China Field Force' which was sent to Peking.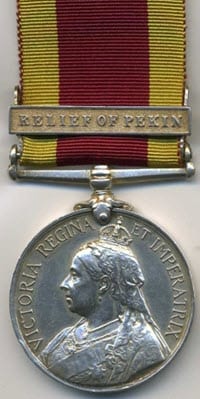 Following this campaign, he was awarded the Silver 1900 China Medal with 'Relief of Pekin' clasp. George's precise role and location during the operation against the Boxers is not entirely clear. This was a complex situation with a multi- national force. Only senior officers were mentioned in the official despatches. There is a possible clue, though, in that George finally sailed for Hong Kong on the ship 'Salamis' on October 24th 1900 arriving there on December 2nd. Newspapers reported that this ship carried the 2nd Royal Welsh Fusiliers and detachments of the Royal Engineers and RAMC that were attached to it.
The despatch tells us that the RAMC detachment consisted of just one officer (Major Watson) and nine men, probably including George Barlow.
On June 10th 1901 George began a journey to Wai-Hei-Wai, a Chinese territory that had recently been leased to Britain. Although it included an anchorage used as a base for the Royal Navy's China Fleet, it was under the administration of the Colonial Office.
George appears to have moved to the ship SS Chingtu and to have been based at HMS Terrible which was at Wai-Hei-Wai at that time.
There is no information on George's movements for the next year until he is posted home arriving on June 30th 1902. He is reported going to Aldershot, but it is almost certain that in practice he was given home leave. On July 11th 1902 he was posted to Shorncliffe Barracks near Folkestone in Kent, and on September 12th he went on to Canterbury. This was the location of a cavalry depot and that of the Buffs (East Kent Regiment). He went to Dover on July 7th 1903 and remained there for some time other than a brief period (almost certainly for manoeuvres) at Bulford on Salisbury Plain in July 1904.
Another daughter, Marjorie Ethel, was born in Dover on November 17th 1903.
On November 3rd 1904 George began the journey to Ceylon (Sri Lanka), having been posted to Colombo. Soon after his arrival he was notified that his wife had given birth to another daughter, Kathleen Doris (Cassie) on November 26th in Dover.
There are no details of George's time in Ceylon except that from April 18th 1905 to March 20th 1906 he served in Trincomalee before returning to Colombo. On April 2nd 1906 he was promoted to Staff Sergeant. He returned home on January 29th 1908.
During 1908 there were substantial and significant changes to the British Army, known as the Haldane Reforms, named after the Secretary of State for War who initiated them. The most important aspect was the creation of the Territorial Force (TF). On August 22nd 1908
George qualified as an 'instructor to the auxiliary forces' indicating an imminent role with the TF. On November 18th 1908 a son, Richard George, was born in Aldershot.
On November 27th 1908 George began service as an instructor at the West Lancashire Territorial School of Instruction. He was promoted to Sergeant Major, although as yet only on an Acting basis, for this purpose. George was now given permission to serve beyond the normal maximum of 21 years and on July 1st 1909 he was awarded the Army's Long Service & Good Conduct Medal, for which it was necessary to have served for 18 years.
The 1911 census showed the whole family to be living in the West Derby area of Liverpool. Two more sons, Frank Ernest Guilder (1910) and Arthur Dudley (1911) were born during this period.
The TF was organised and administered by a number of 'County Associations', one of which was West Lancashire. It raised many units of all arms and services of the army, based at a number of depots and drill halls. The school mentioned in George's record will have been that for the men of the RAMC units within the County Association area. The exact location of the school is unknown, though it was certainly in Liverpool.
Another son Phillip Edward was born on October 3rd 1912. On December 2nd 1912 George was posted to join a unit of the TF known as the 3rd Welsh Field Ambulance. This unit was based in Swansea, and George was part of a small full-time cadre of officers and non-commissioned officers who administered and trained the part-time troops during peace time.
The units of the TF were 'embodied' on August 4th 1914 when war was declared, meaning they went on to full-time service. George's Field Ambulance was part of the Welsh Division, which left its normal bases and moved firstly to Northampton then in December 1914 to Cambridge. They eventually went on to see service in the Gallipoli campaign. All of this meant he missed the birth of another son, Stewart Henry, in October 1914.
George, however, left the Welsh Division in February 1915 and re-joined the RAMC. He was promoted to Quartermaster Sergeant on February 12th 1915 and eight days later sailed on the 'Queen Empress' from Southampton to Le Havre to join the British Expeditionary Force in France.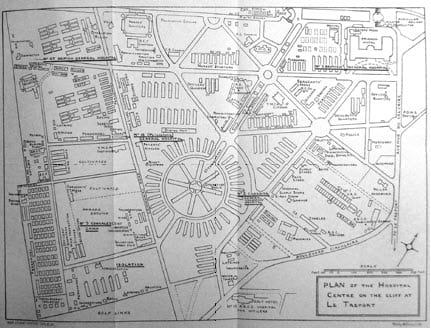 It appears that George had been posted to join the staff of 16 General Hospital which had been raised as a unit in Aldershot and began to establish itself at Le Treport on February 22nd 1915. On July 4th 1916 the war diary mentions that George was formally discharged from the ranks, having served 27 years and 253 days. His final official character rating was 'Exemplary', the best of 5 grades used for the purpose.
On July 5th 1916 George was commissioned as a temporary Quartermaster and Honorary Lieutenant. He was also given a posting to join 13 Field Ambulance, part of the 5th Division, arriving there on July 8th.
It becomes evident that at some point he was posted to 30 General Hospital at Calais, but no date is recorded.
George was obviously quite ill towards the end of the war and a Medical Board held in Calais on April 15th 1918 rated him in Medical category Bii, fit only for base duties. George returned to England on February 12th 1919.
It would seem that George had some home leave in 1917 as another son, George Kenneth was born in April 1918.
George remained unwell and was suffering from bronchitis, resulting in admission to the Prince of Wales's Hospital in Marylebone, where he remained until March 22nd 1919.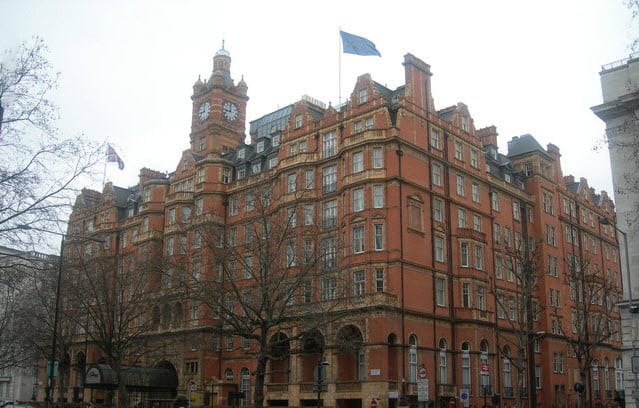 A final Medical Board assessment recommended that he be given home leave following a period of convalescence at the Mont Dore Military Hospital in Bournemouth, where the family had settled in anticipation of his retirement. George was pronounced as permanently unfit in categories A and B and it would be another 3 months before he was Ci. Still at home he wrote to request an extension of his leave for the purpose of seeing friends as it was his first opportunity to do so since before the war.
This request was refused.
On the April 15th 1919 George was ordered to proceed for duty to Spike Island Special Military Hospital in Cork Harbour in Ireland amid the IRA uprising.
A medical examination on September 5th rated him in category Ci and unfit for service overseas.
At this point George seems to have lost all enthusiasm for the job and was subject to a rather adverse report by his Commanding Officer concerning his behaviour and capabilities.
George was called upon to resign his commission and he did so on November 1st 1919; a rather sad and muted end to a lengthy and otherwise unblemished military career. In January 1920 the War Office agreed that his services should be regarded as satisfactory for pension purposes.
The family latterly moved to Ringwood in the New Forest where he worked as a market gardener. He died on April 2nd 1946 and is buried, along with his wife, in Hightown Road Cemetery in Ringwood.
George Barlow was my grandfather who died when I was only a year old. I have become fascinated by his story having researched his Army records. If anyone has any information or other comments to add to this story, I would be pleased to hear from them. I may be contacted via