Fred was born in Reading, Berkshire on May 2nd 1855 to parents James Grover (1827-1914) and Sarah Grover, nee Butler (1833-1892). From a near-on unreadable entry on his birth certificate it reads, to me, that he was born at 7 Minster Cottages, Reading. Fred was the eldest of eight children. He was baptised in the church of Saint Mary (The Minster) Reading on May 2nd 1858 with his two following male born siblings. Fred's siblings were: – William James Grover (1856- 1952), John Grover (1858-1934), Emily Grover (1860-1952), Harry Grover (1863-1940), Sarah Annie Grover (1867-1959), Lucy Grover (1869- 1949) and Miriam Elizabeth Grover (1874-1936).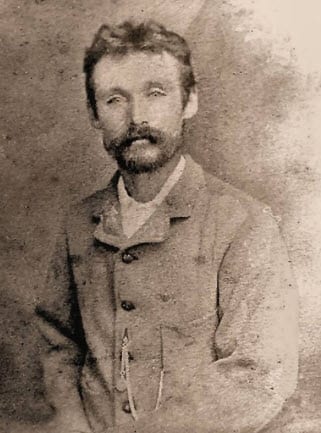 The 1861 census has Fred living with family in Chatham Street, Reading, being six years of age and a scholar. There is a family story that at the age of twelve Fred's father gave him a small magnifying glass in a brass case and which had a brass chain. Indeed, there is a photo of Fred later in life in Queensland, Australia, showing the magnifying glass with the chain looped from a buttonhole to a top pocket in his jacket. The 1871 census, which was the last one taken before Fred emigrated to Australia, has the family living in Leopold Road, Reading, with Fred being sixteen years of age and employed as a smith.
For unknown reasons Fred registered to emigrate to Australia. He is recorded on the passenger list of the "Ramsey" and being nineteen years of age. The "Ramsey" is reported sailing past The Lizard on March 8th 1874, crossing the equator on March 29th 1874, and arrived at Moreton Bay, Queensland on June 8th 1874. The voyage was recorded as being uneventful and fast. Upon arrival the ship's crew and passengers were held in quarantine for six days as several children were suspected of having measles. When the passengers were released from quarantine they were highly sought after. The Australian newspapers of the time reported, "the men are of great commercial value" and that "suitable immigrants have all been engaged – single men at wages from £35 to £40 per annum, and married couples from £45 to £60 with rations".
Fred settled in Ipswich, 30 kms south-west of Brisbane, where he worked in a mine named "Coal Pit Gully". Following a short residence in Ipswich he moved 40 kms inland to the town of Laidley where he worked as an agricultural labourer working with sheep and cattle. With a minor medical problem Fred had need to attend the local hospital.
There he met the hospital domestic, Janet Bromley Kirkwood (1860-1949), his future wife. Janet was the daughter of George Bromley Kirkwood (alias Samuel Bromley) (c1825-1898) a "Ticket-of-Leave" convict, originally from Cheshire, England and Agnes Kirkwood (nee Johnstone) (1836-1890) originally from Kinross- shire, Scotland. Fred and Janet married in Ipswich, at her parent's residence, on June 23rd 1879. They settled in North Ipswich and had four children: – Agnes Cecilia Grover (1880-1972), James Grover (1885-1945), Sarah Elizabeth Grover (1886-1964) and Alan Frederick Grover (1889-1976).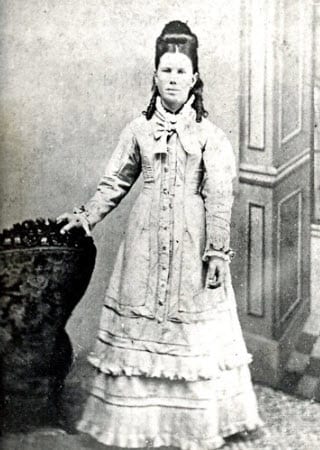 Records have been found that by early 1890s the family were living in the gold-fields town of Charters Towers which is approximately 1,070 kms north-west of Brisbane.
Around this time Charters Towers was experiencing a gold rush and was rightly known as "a wealthy town and a place to get wealth". Fred and Janet purchased a house and land in Stubley Street, Charters Towers. Although they were not involved in mining they did have, as most people, a Homestead Gold Mining Licence, which enabled them to claim any gold found on their property. This relocation might not have been a wise decision as Fred began suffering severe asthma attacks. Fred worked as a drover and later as a house painter and Janet worked as a domestic for several of the local families. Fred's health deteriorated and he passed away at home on July 2nd 1902 at the recorded age of forty- seven. He was buried in the Charters Towers Cemetery the next day. The death certificate states the cause of death was "Enlargement of the liver, waxy dropsy and chronic gastric catarrh".
A month after Fred's passing Janet was encouraged by her eldest daughter to relocate to Western Australia. Janet agreed and auctioned the property and most of the family possessions.
On August 21st 1902 Janet and her children are recorded embarking on the "SS Allinga" in Townsville, Queensland for a twenty-two-day voyage to Albany, Western Australia.
In Western Australia, Janet and children settled in Katanning, approximately 250 kms south-east of the capital city of Perth. Janet was involved in successfully owning several boarding and eating establishments until her retirement in 1919. On retirement she moved to Subiaco, a suburb of Perth. Janet passed away on November 4th 1949, after a serious fall at home.
Following Janet's death, the family found numerous items of interest, including her diary, Fred's magnifying glass, photos of Fred and Janet, photos of Janet's parents, and what is believed to be photos of Fred's parents and siblings from Reading. Yes! … the same old problem no name or comments on the back, just the studio name and logo on the front. Another interesting find was a damaged white china milk jug. The family story associated with this is that Fred brought it out from England and Janet treasured it. On Janet's passing it was placed at the foot of her gravesite, where it remains.
In early 1907, Fred and Janet's eldest son, James decided to travel to other states of Australia. His first venture from Western Australia was to Tasmania which included a stop-over in Yongala and Adelaide, South Australia. After exploring the state of Tasmania for ten months he made the decision to return to Adelaide, where he went into business as a saddle and harness maker. Three years later he married Elsie Effield Cullinan (1884-1940). They had one child, Howard Bromley Grover (1917-1994) who married Ella Elizabeth Skeer (1917-2009) – my parents. Howard and Ella lived their lives in Adelaide, South Australia.