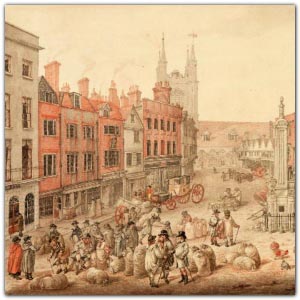 Lesser-Known Reading Talk Series
This all series ticket covers all three talks in the "Lesser-Known Reading" talks series, for the discounted price of £12.50 (members £10.00). You may also book each talk individually – see each separate event page. All three talks are on Thursdays at 2pm in The Centre for Heritage and Family History, Reading. They last about an hour with time for questions and discussion afterwards. Tea, coffee and cake after the talk is included in the price.
Thursday 12 October "Reading's Victorian Buildings" with Terry Dixon
A layman's view of some of Reading's Victorian buildings, covering several architects, styles, genres and functions. Discover why you should stop and take a closer look. Our speaker is Terry Dixon who runs popular walking tours of the town. This talk is inspired by his Reading Architecture Walkabout, during which he takes participants on a walk through the many different architectural styles in his wonderful town. If you're not already proud of these buildings, you will be by the end of the talk.
Thursday 9 November "Horse Dealing in Reading" with Caroline Piller
Horse dealing was an extremely important trade in town and country. Discover how the well-known horse dealers of Reading in the 19th and early 20th centuries carried out their business, which could be quite lucrative. The last dealers in Reading were Oliver Dixon Ltd, of Crescent Road Repository at Mockbeggar Farm. They were rewarded with royal patronage and worldwide fame but were forced to give up their premises in 1941. Oliver Dixon was well known in Reading, mixing socially with Sol Joel, the Palmers, Arthur Hill, Vincent and Dick Francis of Emmbrook. Find out more in this fascinating talk.
Thursday 7 December "The 1688 Fight – Reading & the Glorious Revolution" with Mike Cooper
On Sunday 9th December 1688, troops loyal to King James II were driven out of Reading by the invading army of William of Orange.  For over 100 years after the event, Reading's churches rang their bells in celebration. This talk looks at the events of the Fight and its background during the Glorious Revolution and, particularly at the primary sources available for the events of that day. 
Please note that these are face-to-face talks.
Pre-booking is preferred, but you can pay on the door for this series ticket at the first talk, if there are spaces available.  
Scroll down to book.
Speakers
Caroline Piller

Caroline moved to Reading to train and work as a teacher. Twelve years later, she discovered that her grandfather, a London horse dealer, had been born in the town and that he had done business with a Reading horse dealer called Oliver Dixon. Four years of intensive research finally led to the publication of a book "The Life and Times of Oliver Dixon: A Reading Horseman Remembered". This local history tells the story of how a 10 year old Irish boy established a huge horse business empire at Mockbeggar Farm in Earley.

Caroline is a volunteer at the Museum of English Rural Life and Programme Secretary of The History of Reading Society.

Mike Cooper

Mike has had a lifelong interest in history, especially military and local history. Following a history degree at the University of Reading he worked as a librarian, with both the University and Reading Library. In addition to work on librarianship, he has had three books on the history of Reading published. Mike works for Reading Borough Council, and lives in Tilehurst with his wife and Moggy the Cat.

Terry Dixon

Terry is Reading-born and completed a local apprenticeship as an electronics engineer, before branching into project management and specialising in defence-related initiatives, until his voluntary early retirement in 2016.

With a love of Reading and its history and considerable experience in leading a Reading-based organisation, he set up his own guided walk initiative – Terry's Reading Walkabouts, as a non-profit making entity. In the five years since launch, he has established thirteen different themed routes and has raised over £9,400, most of which has been donated to local charities.