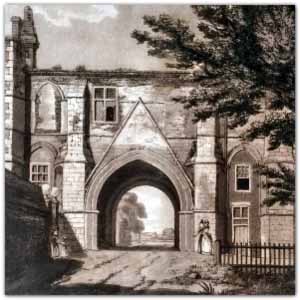 Jane Austen's School Days in Reading
This quarter, in celebration of the 900th anniversary of the founding of Reading Abbey by Henry I, we have two online talks focusing on aspects of the Abbey.
The first features the Abbey Gateway, home to the Ladies Boarding School which Jane Austen attended from 1785-6. With the help of contemporary sources we shall look at the buildings, daily routines, the teachers and the local environment Jane would have become familiar with (and possibly even muse on the echoes in her writing). 
Pre-booking for this talk is required because places are limited. Full joining instructions will be emailed to attendees in advance. Bookings close one day before the event.
This is the third talk of five in the Spring Potpourri of Social History Talks Series. Book all five talks in one multi-ticket for the discounted price of four. Four of the talks are on Thursdays at 2pm, whilst this talk is on a Saturday and the slightly later start time of 3pm.
To join this talk, you will need a computer device with speakers. Ideally, also a webcam and microphone. You also need to be able to access the internet from it. First-time users of Zoom, will be asked to download a small piece of software, which will be sent in advance. Technical help is available, please contact  
To book – scroll down.
The Non-members ticket sales has ended!
The Members ticket sales has ended!
Speaker
Joy Pibworth

Joy Pibworth

Joy has always been fascinated by history and is particularly interested in the history of the towns and villages of the former North Berkshire (now the Vale of the White Horse) and the history of Reading pre 1837. She is a long-standing member of several local history societies. Joy has been a Janeite (Jane Austen fan) since her school days and is particularly interested in the life and times of Jane and her immediate family.