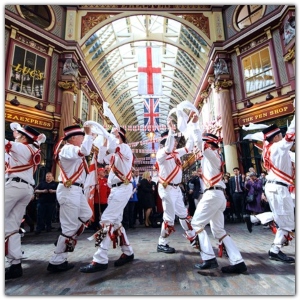 Cross Your Fingers Until You….
🌟 Discover the Fascinating World of Ancestral Superstitions and Customs! 🌟
🔮 Join us for a captivating genealogy talk: "Cross Your Fingers Until You…" by the renowned genealogist, Graham Sutherland. Prepare to embark on a mesmerizing journey through the intriguing tapestry of superstitions, traditions, and customs that have shaped the lives of our ancestors!
🔍 Uncover the Hidden Threads of Our Ancestral Beliefs:
Delve into the secrets of the past as Graham Sutherland unravels the rich tapestry of customs and superstitions that guided our forebears through life's many twists and turns. From the mystical to the practical, from the whimsical to the profound, this talk will leave you spellbound.
🌿 Step into the World of Rituals:
Explore the enigmatic rituals that have been practiced for generations. Whether it's the uncanny rituals to ward off evil spirits, the peculiar customs surrounding birth and marriage, or the age-old traditions related to death and mourning, you'll gain fresh insights into the lives of your ancestors.
🤞 Embrace the Power of Superstition:
Superstitions have woven themselves deeply into the fabric of human history. Discover the compelling stories behind these beliefs, from lucky charms to talismans and from omens to old wives' tales. Explore the fascinating reasons behind our ancestors' seemingly irrational actions.
🔥 A Talk Full of Surprises:
Graham Sutherland's dynamic storytelling and extensive knowledge will keep you on the edge of your seat. With a blend of humor, intrigue, and historical accuracy, you're in for a treat that's both educational and entertaining.
🔑 Key Takeaways:
– Gain a deeper understanding of your ancestors' lives and the forces that shaped their decisions.
– Explore the profound and quirky customs that still influence our culture today.
– Reconnect with your roots and appreciate the enduring power of tradition and belief.
Don't miss this unique opportunity to unearth the hidden treasures of your family's past. Join us for "Cross Your Fingers Until You…" and embark on a journey through time, superstition, and the customs that bind us to our ancestors.
Secure your spot now and get ready to be captivated by the enchanting world of ancestral traditions and superstitions. This talk promises to be an unforgettable experience! 🌌📜
#AncestralSuperstitions #GenealogyTalk #CustomsAndTraditions #UncoverThePast
This talk is free to members of Berkshire Family History Society and we request a donation of £5 from non-members. Pre-booking is required, because the meeting link will emailed in advance. Booking ends one day before event. 
To join in this branch meeting, you will need a computer device which has a microphone and speakers. Ideally, also a webcam. You also need to be able to access emails from this device. First time users will be asked to download a small piece of software to join the meeting.  The meeting link will be emailed to you in advance. Technical help is available for those who need further assistance, please contact bo*****@be******.uk .
Speaker
Graham Sutherland

Graham Sutherland is a retired police inspector: retired beadle and town crier for Warwick: professional Blue Badge Tourist Guide for the Heart of England. Author of fiction and non-fiction books, either commissioned or self-published. One-time secretary of the Warwickshire Constabulary History Society. A keen historian with a special interest in criminal and social matters of the C19th and early C20th.