« Back to Index
Wantage is a market town and civil parish in the Vale of the White Horse, as well as being a former Berkshire hundred. The original Roman settlement developed to be recorded in the Domesday Book a thousand years later. The town stands on the Roman road of the Portway, where the Reading-to-Cirencester road crosses the Hungerford-to-Oxford road. Belmont, Charlton and West Lockinge lie within the parish, Grove just outside. Other local place names include Chain Hill, Edge Hill, Wantage Down, Furzewick Down and Lattin Down. Tullwick, Prior's Hold and Furzwick are ancient manorial estates.
Until 1974 Wantage lay in Berkshire, but is now in Oxfordshire. Wantage was called a borough in the eighteenth century, but without foundation according to the Victoria County History.
Wantage parish was served by the Great Western Railway, but the station was to the north of the town, at Grove. The Wantage tramway was built to carry passengers and freight from the town to the station two miles away. It operated from 1875; passenger traffic ceased in 1925, and freight in 1945. The line was famously the first of its kind to replace horse-power with steam. One of the tramway's locomotives can still be seen at Didcot Railway Centre.
The Wilts and Berks Canal, opened in 1810 and abandoned in 1914, runs through the parish, and is currently undergoing restoration.
Size
5,935 acres (2,403 hectares)
Population
3,860 in 1851; 11,327 in 2011
Unlike most rural villages, whose populations peaked around 1851 and then declined, Wantage continued to grow 1851 – 1901.
Hundred
Wantage (which contained three parishes)
Poor Law union
Wantage Union workhouse was in the town.
Registration district
Wantage was itself an RD, rather larger than the parish.
Present-day local authority
Vale of the White Horse, Oxfordshire
Grid reference
SU 39 87
Adjoining parishes in 1851
Ardington, Brightwalton, East Challow, East Lockinge, Farnborough, Fawley, Hanney, Letcomde Regis and Lyford
Genealogical resources
See Berks FHS Books for coverage of this parish in the society's range of CDs.
See also Berkshire Record Office holdings.
For probate purposes Wantage is a Peculiar of the Dean and Canons of Windsor.
Links
http://www.wantage.com is an independently owned and run community website.
http://www.heraldseries.co.uk/news/hswantagenews – Wantage Herald
http://www.workhouses.org.uk/Wantage – Wantage workhouse
Published local history
John Parrott The largest tanyard in the kingdom: three centuries of tanning in Wantage, AD 1523 – 1825 (Garden Shed, c2009)
Life and letters of William John Butler, late Dean of Linclon and sometime Vicar of Wantage (Macmillan, 1898)
The parish church of S Peter and S Paul, Wantage
G H R Homer-Wooff The postal history of Wantage (Wallingford, 1988)
Kathleen Philip Reflected in Wantage Parts 1 & 2 (1969)
Kathleen Philip Victorian Wantage (1968)
Agnes Gibbons and E C Davey Wantage past and present (William Walker, H N Nichols, 1901)
Anglican church and parochial organisation
The living of Wantage is a vicarage in the diocese of Oxford, its patrons being the Dean and Canons of Windsor. The church of SS Peter and Paul (pictured below) dates from the thirteenth century.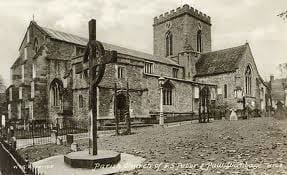 In 1534 the antiquary John Leland noted that within the churchyard was a chapel of St Mary being used as a school. The Victoria County History (of 1924) noted a mission chapel attached to the parish church, probably the same St Mary's, but it is now demolished.
Grove, two miles to the north, became a separate ecclesiastical parish in 1835.
Charlton acquired a chapel of ease in 1848.
The census of 1851 found the vicar of Wantage presiding over a team of six curates.
Other churches
The Victoria County History (of 1924) noted a Wesleyan Methodist chapel in Newbury Street, and a Baptist chapel in Mill Street. Baptists have been active in Wantage since 1653. In 1851 a Wesleyan minister lived in Garston Lane, and a Baptist minister in Tanner Street.
Schools
King Alfred's Academy (also formerly known as Wantage Grammar School) was officially founded in 1597, although it had been operating earlier in a former chapel (see under Anglican church). This accommodation was replaced in the early seventeenth century and again when, after a period of decline, the school was refounded in the mid-nineteenth. In the late twentieth century King Alfred's combined with two other secondary schools, Icknield Comprehensive and Segsbury Secondary Modern, to form Wantage School, which later reverted to the name King Alfred's Community and Sports College. It now has foundation status.
In the 1851 census there appear to have been a girls' boarding school in Newbury Street and a boys' boarding school in the Ham House.
A former independent preparatory school, St Andrew's, opened in 1926 and closed in 2010.
Pubs
1851 census identified the Bell; Admiral; Abingdon Arms; Bay Tree; White Horse; Packhorse; Wheatsheaf, and around nine other inns un-named (but mostly in the Market Place). Also two beer sellers in Tanner Street. In 1833 there seems to have been a pub called the Bear.
Other local history
Wantage was identified by Bishop Asser as the birthplace of King Alfred the Great in 849. It was later the birthplace of Alice Fitzwarren, who became Dick Whittington's wife.
In the 1851 census 17 inhabitants were employed in sack-making, probably at the Grove Road sack factory (there were another nine sack workers retired or on parish relief); 11 people gave their occupation as slop worker; 16 as teacher or school master/mistress; 11 worked in the iron foundry.
A corn exchange was built in 1865.
Wantage's most prominent nineteenth-century benefactor was Robert Loyd-Lindsay (1832 – 1901), a soldier (Brigadier-General and Crimean VC), politician (Conservative MP for Berkshire 1865-85) and freemason (Provincial Grand Master of Berkshire 1898 – 1901). He was created Baron Wantage in 1885. Among his gifts to the town were the marble statue of King Alfred (below, looking remarkably like its donor) in the Market Place, and the Victoria Cross Gallery, an art gallery which is now a shopping centre.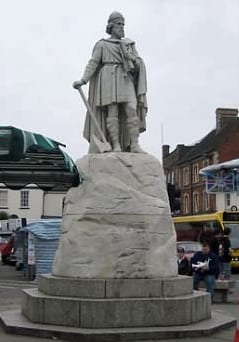 Poverty and charity
The 1851 census records the Sisters of Mercy running a House of Charity in Newbury Street, with eight inmates. This may be the Anglican Community of St Mary the Virgin, founded by the vicar of Wantage in 1848. The establishment still exists as a care home for the elderly.
Wantage had numerous almshouse and other charities, detailed in the Victoria County History.
The union workhouse in Wantage had well over 100 inmates in 1851, most of them agricultural labourers.
Literary connections
The town of Alfredston in Thomas Hardy's novel Jude the Obscure is Wantage. The Poet Laureate John Betjeman lived in The Mead, Wantage, for many years and wrote about the town in poetry and prose. There is a memorial park named after him, where are displayed extracts from his poems.
Horse-racing
Wantage Races were first calendared in 1727-28, and revived on Craven-owned downland near Letcombe Regis in the 1790s. The town is still strongly oriented toward horse-racing, being in the centre of the prime training areas of downland. The champion jockey Lester Piggott was born in Wantage.
War Memorial
by Margaret Young
Standing in a corner of the churchyard of St Peter and St Paul's Church in the centre of Wantage, at the junction of Church Street and Priory Road, the memorial commemorates those who died in both World Wars.
OS ref SU397879
« Back to Index