« Back to Index
Sunningdale is:
an ecclesiastical and civil parish in East Berkshire, bordering Surrey.
about six miles south of Windsor and five miles east of Bracknell.
administered now by the unitary authority of Windsor and Maidenhead.
Adjoining parishes – Old Windsor, Sunninghill (Berkshire), Chobham, Egham, Windlesham (Surrey).
The grid reference for the older part of Sunningdale is SU955675. Other areas of Sunningdale lie along the line of the present A30, including Shrubs Hill and Broomhall.
History
There were Roman and Saxon settlements at Sunningdale. The road from London to Silchester, the Devil's Highway, ran through the area (near the line of the today's A30). The name derives from a local Saxon chief (Sunna) and is a contraction of 'SunninghillDale', after the nearby Saxon hamlet of Sunninghill.
The core of the village formed in the late 18th century from a scattering of cottages for workers employed on large estates at the southern end of Windsor Forest. This area was known as Old Windsor Common and formed part of the ecclesiastical parish of Old Windsor.
The area was enclosed in 1817, and with the construction of a parish church in 1840, and the arrival of the railway in 1856, Victorian Sunningdale began to take shape. Later development continued around the junction of the Chobham Road with London Road (A30) to form Broomhall and Shrubs Hill. In 1894 Sunningdale Parish Council was formed. Much of the old village is now a conservation area.
Sunningdale is home to two golf courses, the Old Course first laid out in 1900 and the New Course designed in 1922. Associated leasehold development accompanied the establishment of the Old Course.
Civil Registration Records
From July 1837 to December 1967 Sunningdale was part of Windsor Registration District.
Briefly from January 1968 until March 1974 Sunningdale was included in Easthampstead Registration District (now covered by Bracknell Register Office).
From 1974 Sunningdale reverted to the Windsor Registration District.
Churches
The church of Holy Trinity was consecrated in 1840 and in 1841 Sunningdale became a parish, formed from parts of the parishes of Old Windsor, Sunninghill and Chobham, Egham and Windlesham.
Across the street from the church, a Baptist Chapel dating from 1828 is still in use today.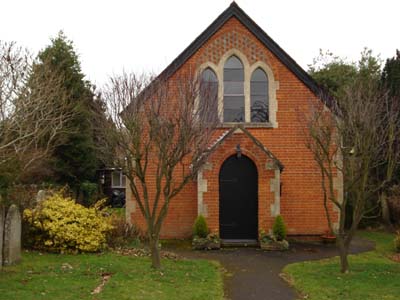 A Congregational Church dating from 1865 was turned into housing in the 1970s, and a Methodist Chapel and the small churches of St Agnes and St Alban have also made way for housing.
There is a local cemetery at Kiln Lane, Sunningdale.
Church Records
Holy Trinity
Baptisms 1841 to 1950
Marriages 1849 to 1981
Burials 1840 to 1938
Banns 1874 to 1987
The society's Berkshire Burial Index contains about 1,500 entries from 1842 to 1938.
Baptist Church
Adult baptisms 1884 to 1963
Burials 1843 to 1978
Membership records
Berkshire Record Office holds records for Holy Trinity and those from the Baptist Church.
Victorian Sunningdale contained several large estates, including Coworth Park (soon to be a luxury hotel – 2010), Broomfield Hall (demolished in the 1930s), Silwood Park (now part of Imperial College, London and a technology campus) and Sunningdale Park (the present-day Civil Service College), where in December 1973 the Northern Ireland Sunningdale Agreement was drawn up. Other large Victorian houses have been demolished for redevelopment or converted into flats.
Schools
After Holy Trinity opened in 1840 church authorities funded a school to replace two local "dame schools." In 1842 a new National School opened at the western end of Church Road. The school has been extended since, and is now a thriving Church of England primary school. Surviving records are in the Berkshire Record Office.
Sunningdale School in Dry Arch Road is a well-known preparatory school, founded in 1874.
In 1958 Charters Secondary School opened to just under 400 pupils – built on land belonging to a house of the same name, once owned by Montague Burton of tailoring fame. Managers' minutes and other records are held by Berkshire Record Office.
Village halls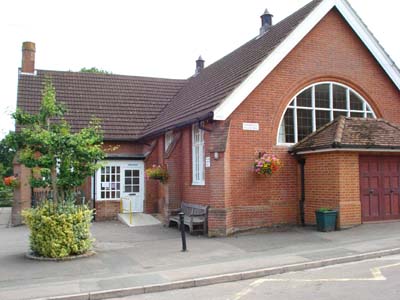 The Village Hall in Church Road dates from 1909, and in the same road, opposite the Church, is the Coronation Memorial Institute, (CMI) opened in 1912 and belatedly marking the coronation of King George V. The CMI replaced two iron huts that had served since 1893 as a working men's institute and reading room and continued as a working men's club for some time before in 2004 becoming a second village venue.
Links
For Berkshire Record Office holdings of Sunningdale records see www.berkshirerecordoffice.org.uk
The New Landscapes website provides some information on the effects of enclosure in the area. See www.berkshireenclosure.org.uk
For more on the C of E school see www.holy-trinity-school.org.uk
And for Charters School, go to www.chartersschool.org.uk
For more on the village see www.sunningdale-pc.org.uk
Some photographs of Sunningdale can be found on http://www.francisfrith.com/sunningdale/photos/
A publication that may be of interest
Remembering Wartime: Ascot Sunningdale and Sunninghill 1939-1945, Christine Weightman, 2006
War Memorial
by Brian Wilcock
The Sunningdale Monument is located in the eastern corner of the Holy Trinity churchyard, at the junction of High Street and Church Road, grid ref SU 9544 6753. It shows names from WW1 & 2
« Back to Index