« Back to Index
Garford is a village and civil parish about four miles west of Abingdon, just south of the river Ock, and probably developed originally as a place where that river could be safely forded. It is a chapelry of the parish of Marcham and was part of Berkshire until the 1974 boundary changes transferred it into Oxfordshire.
A single road passes through the village, alongside which the settlement clusters.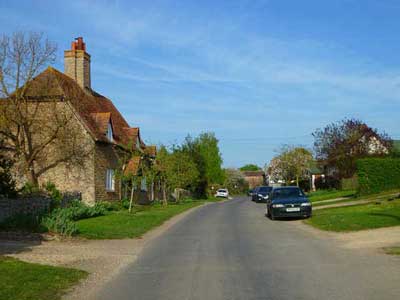 Copyright Andrew Smith and licensed under Creative Commons
VCH, 1924: Garford, to the south-west, is on the right bank of the Ock. It consists of stone-built houses and cottages and contains little of interest. Abingdon Abbey had a capital messuage here which afterwards passed into the hands of the Aldworths. By the 17th century, it seems to have fallen into disuse. A barn in a field is a relic of a manor-house formerly belonging to Magdalen College, Oxford. Gang Bridge is presumably the Garan bridge which replaced Garan ford at the River Ock. Alan 'atte Brugge' is mentioned about 1391, and the bridge, which is approached by a raised causeway, is of some antiquity. There was a mill here in 1086, and the water-mill, mentioned in the 16th century, probably stood on the site of the present Ven Mill on Childrey Brook, where the stream is crossed by the Oxford and Wantage high road.
Local place names
Garford Farm, Chadwick Farm (both 1851), Venn Mill, College Farm (the college being St John's, Oxford)
Size
1,055 acres (427 hectares)
Population
37 houses and 183 inhabitants in 1808; 192 in 1851; 229 in 2011
Hundred
Ock
Poor law union
Abingdon
Registration district
Abingdon
Present-day local authority
Vale of the White Horse, Oxfordshire
Grid reference
SU 42 96
Adjoining parishes in the nineteenth century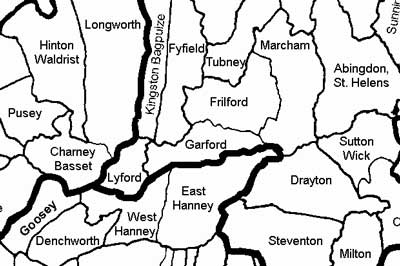 Genealogical resources
See Berks FHS Books for coverage of this parish in the society's range of CDs.
See also Berkshire Record Office holdings.
Anglican church and parochial organisation
Garford is a chapelry of Marcham, in the archdeaconry of Berkshire, and diocese of Oxford (Salisbury prior to 1836).
The chapel of St Luke dates from the thirteenth century, largely rebuilt in 1880, but portions of the old structure were incorporated. It is grade II listed.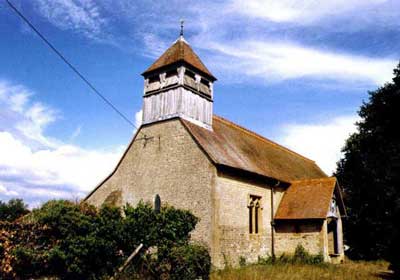 Copyright Michael Ford and licensed under Creative Commons
Pubs
The parish plan refers to what used to be the Noah's Ark public house, which is marked on the 1880s OS 6in map to the east of the village, but there is no pub today.
Other local history
In 1624 Garford was bought for the estate of Lord Craven, with which it remained until 1821.
VCH 1924: Chapelry of Garford.—In 1721 Elizabeth Hayward, as appeared in the Parliamentary Returns of 1786, by her will left £10 for the poor, in respect of which 10s. a year was paid out of certain lands. The land was sold in 1897, and subsequently a sum of £20 12s. 5d.India 2½ per cent. stock was transferred to the official trustees in satisfaction of the charge. The annual dividends of 10s. 4d. are together with the share of Wrigglesworth's charity distributed in bread at Christmas time.
This item appeared in several news periodicals of 1823: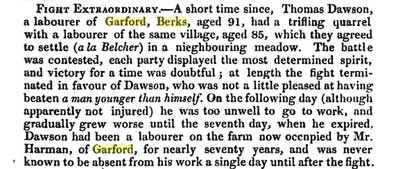 Today there are two working farms: Millets Farm and Manor Farm.
« Back to Index