Aston Tirrold (sometimes spelt Tyrell) and Aston Upthorpe are adjoining villages just off the A417, about three miles south-east of Didcot, on the western bank of the river Thames, not far from the Great Western railway line. The Ridgeway and the Icknield Way pass nearby. The Berkshire downs form the southern part of Aston Upthorpe.
The hamlet of Aston Upthorpe was formerly part of Blewbury, but in 1862 it became a separate ecclesiastical parish. Both Astons became civil parishes in the 1890s. Since then they  have tended to be considered as one community, often referred to as the Astons. Both were in Berkshire until the 1974 boundary changes switched them to Oxfordshire.
Local place names
Aston Upthorpe: Oven Bottom, Hogtrough Bottom and Grumble Barn, Thorpe Farm
Aston Tirrold: Baggs's Picks, the Berry, Goozle Mere, Rowham, Mar Furlong, the Severals, the Tubbies, Waterslade Bottom and Windrell Copse. Windmill Piece is the site of a mill which was standing early in the nineteenth century.
Size
Aston Tirrold: 1,753 acres (710 hectares)
Aston Upthorpe: 1,322 acres (535 hectares)
Population
Aston Tirrold:  363 in 1851; 373 in 2011
Aston Upthorpe: 177 in 1851; 190 in 2011
Hundred
Moreton
Poor law union
Wallingford
Registration district
Wallingford
Present-day local authority
South Oxfordshire
Grid reference
SU 55 86
Adjoining parishes in the nineteenth century
Genealogical resources
See Berks FHS Books for coverage of this parish in the society's range of CDs.
See also Berkshire Record Office holdings.
Links
Published local history
Frances McDonald Monument to faith: history of Aston Tirrold Reformed Church (Aston Tirrold, 1978)
Stuart McDonald Aston Tirrold British School: an essay on the history of a small village school (Wantage, 1978)
Lucy Fuller Aston Tirrold & Upthorpe: a history (1921, a 2004 reprint)
Aston Tirrold & Aston Upthorpe: history and walkabout (2009)
Vivien Biggs Sir John Leigh Hoskyns: rector of St Michael's Church Aston Tirrold 1846 to 1911 (2006)
Vivien Biggs Sir John Leigh Hoskyns' diary of a village (2000)
Anglican church and parochial organisation
The living of Aston Tirrold is a rectory in the diocese of Oxford (Salisbury until 1836). The church of St Michael (Aston Tirrold) is believed to be early Norman, possibly even Saxon in origin.
Aston Upthorpe was attached to the vicarage of Blewbury until 1862, when it became a separate ecclesiastical parish. Its All Saints church, dating from the late twelfth century, was for many centuries a chapel of ease.
Both parishes are now part of the Churn benefice.
Other churches
Non-conformism flourished here from 1662.
From the Victoria County History of Berkshire:
Liberty or Chapelry of Aston Upthorpe — In 1715 Richard Belcher, by will proved in the archdeaconry of Berkshire on 2 July, devised a rent-charge of £4 a year out of his property in Abingdon to be paid to the minister of the chapel in Aston Upthorpe. That chapel being abandoned, this sum is now received by the minister of the Aston Tirrold Presbyterian Church, from the trustees of this charity appointed by order of the Charity Commissioners of 11 August 1905.
The Aston Tirrold Presbyterian chapel was built in 1728. It is now Aston Tirrold United Reformed Church.
Schools
The following extract from a Parliamentary enquiry of 1819 found this for Aston Tirrold: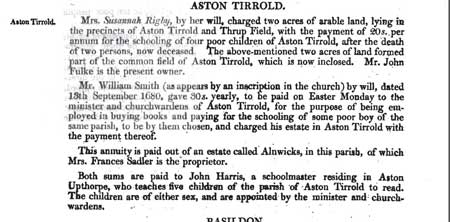 A British school, founded in 1827 by the Presbyterian chapel in Aston Tirrold, closed in 1907.
The National school was said to have been founded in 1847 by the Rev John Hoskyns, although diocesan records show there to have been a National school in Aston Tirrold in 1840, before Hoskyns took up the post. Whatever its origin, it closed in 1972, and the pupils transferred to South Moreton school.
Pubs
The Chequers Inn in Aston Tirrold was enumerated in the 1881 census, when the landlord was William Jenks from Shropshire. The village policeman lodged there. It subsequently became the Sweet Olive, and later the Fat Frog.
The Old Boot in Aston Upthorpe is now a private house.
Other local history
The Astons village history group holds regular meetings, stages exhibitions and publishes local material. The group holds an archive of village papers and photographs, which are currently being digitised.
A collection of glass lantern slides, known as the Curry slides, believed to have been taken by the Rev Curry of Aston Tirrold Presbyterian Church, show the twin villages around the turn of the twentieth century, and they can be seen on https://sites.google.com/site/astonshistory/curry-slides-2.
Both villages witnessed unrest in the 1830 Swing Riots. Six men were convicted in January 1831 at Abingdon Assizes of unlawful assembly in Aston Tirrold, although only one was jailed, and a threshing machine was broken in Aston Upthorpe.
Famous local residents include:
the musician Steve Winwood of Traffic, in the 1960s
Tim Henman, who bought a house here in 2003.