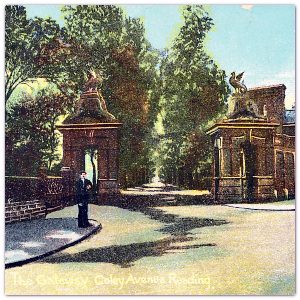 The History of Yeomanry House, Reading
Sitting at the junction of Coley Avenue, Castle Hill, Bath Road and Tilehurst Road, and hidden by trees, Yeomanry House is perhaps a little ignored in comparison to the other big houses in the area. Until recently, it was home to Berkshire Family History Society and the Berkshire Register Office, but what of its past, and where does its name come from? From its origins on the fringes of the town, confusing house names (it was previously called Castle Hill House, as was another in the same area), to polite society, a school, military links and weddings, this house has seen it all. Discover its history and some of the families associated with it – the Sherwood's, Jesse's, Levett's, Fiennes and more.
This talk is the second of three in this quarter's Winter Potpourri online talks series. Book all three talks in the series for £12.50 (members £10).   
Pre-booking is required, because the event link will be sent in advance.                             
To join this talk, you will need a computer device with speakers. Ideally, also a webcam and microphone. You also need to be able to access the internet from it. First-time users of Zoom, will be asked to download a small piece of software, which will be sent in advance. Technical help is available, please contact
To book – scroll down.
Booking closed for Non-members ticket
Booking closed for Members ticket
Speaker
Katie Amos

Local Studies Lead, Reading Central Libraries

Katie has been working at Reading Library for around 30 years, mostly in the Local Studies Department, where she is now Local Studies Lead. Through her work here, she has developed an interest in family history, and has been researching her own tree for the last 18 odd years. This led to her first book on her Timms family, and her second book came about from a customer request and is on the history of the Mansion House in Prospect Park. When not researching she loves contemporary English folk music, reading and also works for the Hexagon theatre as part of their front of house team.