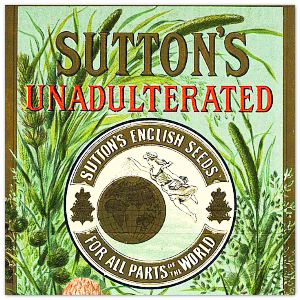 Suttons Seeds
Suttons Seeds was an iconic institution in Reading for decades. This talk will look at how it all began and what it was like to work for the company. It will examine how the company built its global reputation for reliable seeds and plants which were guaranteed across the world. The talk will also look at how Suttons developed over the years from humble beginnings in Reading to its move to Devon in the 1970s.
This is the third of three talks in the Industries Social History Talks series. The other talks take place on 14th July and 11th August. You may book tickets for individual events or for all three talks in the series for a reduced price.  
After the talk, tea/coffee and cake will be available (included in the price). Pre-booking is preferred, but you can pay on the door, if there are spaces available.  
Please note that as this is a face to face talk, prevailing Coronavirus precautions will be in place. Please see: https://berksfhs.org/face-to-face-events-covid-security/
To book, scroll down.
Speaker
Richard Marks

Richard Marks

Richard Marks is a published historian based in Berkshire who specialises in military, industrial and railway history. His current areas of research are the aircraft and systems of the RAF, industrial development in the Victorian period, and the development of the railway and canal systems in Britain in the mid to late 19th Century. Richard is also currently researching a PhD in industrial history.