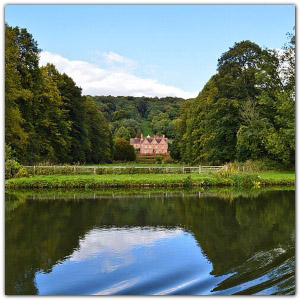 Literary and Artistic Footprints of The Thames Valley
Enjoy a virtual journey up the Thames from Mapledurham House to the village of Aldworth, above Goring and Streatley, visiting the places frequented by notable writers and artists throughout history. For example, we examine the links poet Alexander Pope had with Martha Blount and her family at Mapledurham and the connections between Kenneth Graham, author of The Wind in the Willows, and Hardwick House and why it lays claim to being Toad Hall. Many others will cross our path, including D. H. Lawrence, Henry James and Alfred Lord Tennyson.
This talk is the second of three in the Autumn Potpourri online talks series. Book all three talks in the series for £12.50 (members £10).  The other talks take place on 26th October and 14th December.
Pre-booking is required, because the event link will be sent in advance.                             
To join this talk, you will need a computer device with speakers. Ideally, also a webcam and microphone. You also need to be able to access the internet from it. First-time users of Zoom, will be asked to download a small piece of software, which will be sent in advance.                                                                                                                                      
Image: Hardwick House by Philip Pankhurst
To book – scroll down.
Speaker
Nick Brazil

Author, Film Maker & Photographer

Nick Brazil is an author, film maker, photographer and public speaker. He has written four books including Billy Biscuit , the story of Sir William Curtis the man who coined the phrase The Three Rs and Before Chernobyl – Nuclear Accidents The World Has Forgotten which is a history of all the other nuclear accidents that have occurred besides Chernobyl and Fukushima. All but one of the books have companion talks in Nick's portfolio. He has also made eight documentaries. He is widely travelled with many of his journeys featuring in his talks and has had his photographs published by Time-Life and The Oxford University Press. Nick was born in Looe, Cornwall and has lived and worked in the UK, South Africa and the Middle East. He lives in Oxfordshire.