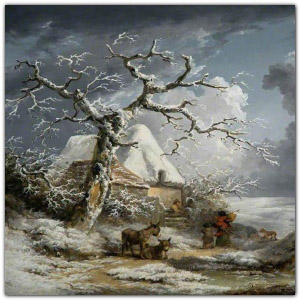 Jane Austen's First Christmas
Unusually harsh winter weather, festive imports from far-away countries, a costly foreign war, issues of law and order and the birth of a Christmas baby.
What was happening in England at the time of Jane Austen's birth in 1775? Find out more in this fascinating seasonal talk.
This talk is the third of three in the Autumn Potpourri online talks series. Book all three talks in the series for £12.50 (members £10).  The other talks take place on 26th October and 23rd November.
Pre-booking is required, because the event link will be sent in advance.                             
To join this talk, you will need a computer device with speakers. Ideally, also a webcam and microphone. You also need to be able to access the internet from it. First-time users of Zoom, will be asked to download a small piece of software, which will be sent in advance.                                                                                                                                      
To book – scroll down.
Speaker
Joy Pibworth

Joy has always been fascinated by history and is particularly interested in the history of the towns and villages of the former North Berkshire (now the Vale of the White Horse) and the history of Reading pre 1837. She is a long-standing member of several local history societies. Joy has been a Janeite (Jane Austen fan) since her school days and is particularly interested in the life and times of Jane and her immediate family.