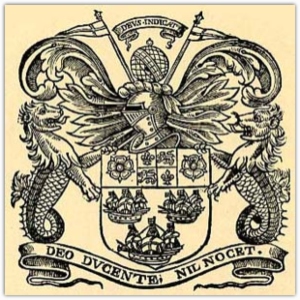 Henry Smith: A Most Notorious, Naughty, False, Lying Fellow
Henry, son of Ralph Smith and brother of Samuel, flourished 1668-1710. He worked for the East India Company towards the end of the seventeenth century and was sacked by the Company on a number of occasions being described as a most notorious, naughty, false, lying fellow. Subsequently, he was incarcerated in Newgate gaol and tried on two counts of piracy; before biting that hand that rescued him and acting undercover in Scotland. Was Henry a global black sheep or maligned character?
This talk by Sue Paul demonstrates how you can enhance your ancestral history by reconstructing the life story of someone who cannot be found in any traditional genealogical records.
This talk is free to members of Berkshire Family History Society, and we request a donation of £5 from non-members. Pre-booking is required, because the meeting link will be emailed in advance. Booking ends one day before event. 
Image: Coat of arms of East India Company 1600-1709 by Bharata-indstar via Wikimedia Commons (CC BY-SA 4.0)
Speaker
Sue Paul

Family History Speaker

Recently retired after many years as a senior project manager in the IT industry, Sue Paul has had a number of articles published in a wide variety of specialist magazine and journals. She is an experienced public speaker including a talk at the 2019 AGRA Conference. An experienced amateur genealogist, over recent years Sue's full attention has been on writing her biography of Captain Thomas Bowrey – a late seventeenth century East Indies mariner and early eighteenth century Wapping merchant uncovered during her One-Name study – which was published in 2020.