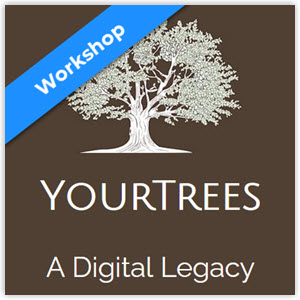 Create an enduring family tree in YourTrees
Ever wished that your grand or great grandparents had kept a family history?  How many of our grand and great grandchildren might feel the same about us in the future? How durable and easily interpreted is your current family archive? Will it stand the test of time, or ultimately end up in a cardboard box in the attic?
YourTrees was launched by the society in 2021 as a free member-only service to:
Provide a facility for members to preserve their research and pass it on to a family member
Allow members to easily share their research discoveries – now and in the future
Allow members to tackle research challenges together
Grow a bespoke collective resource for people, names, places and more
This workshop has been developed to help you create a comprehensive enduring family tree, that is relevant to the digital generations, so that you can store a copy on YourTrees. It is aimed at those who have already saved versions of their tree(s) on YourTrees, those that are thinking of doing so, or wondering whether they should. 
The sessions are very interactive, and with a lot of content to cover we will have Q&A sessions at the end of each section. 
It is a member exclusive Zoom workshop and FREE.
As one attendee put it:
" I recently loaded my data to YourTrees and have found it very useful in showing up mistakes/anomalies in my original. It offers reporting on some fields which are hard to get to on my desktop program. I thought I would let you know that it has already helped."
Sessions last 2½ hours and are held quarterly on dates and times to suit as many regions as possible. 
To book – scroll down.  Use the drop down date selector to switch dates if you need to.
The Zoom link will be sent to you a few days before the workshop
Speaker
Paul Barrett

Berkshire FHS Webmaster

Paul is a retired software product manager, with forty years experience in the high tech sector.

He's been involved in family history for twenty-five years and five years ago set up his own family history website. In 2019 he became the Berkshire FHS webmaster. Running his own site also gave him an insight into the necessity for not only capturing our ancestors' stories but also being highly disciplined about recording the facts behind them.

While his ancestors have roots in the agricultural villages of what was north Berkshire (now part of Oxfordshire) and Wiltshire, and his wife's from west Surrey and Nottingham, they now live in Northumberland, a few miles south of Hadrian's Wall.
Next Occurrence
Date

28 Feb 2024

Time

19:00 - 21:30