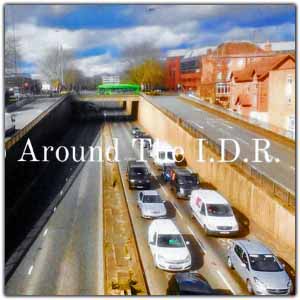 A trip around the Inner Distribution Road in Reading – Before and Afterwards
The Inner Distribution Road (IDR) opened in 1969 as a radical solution to the regular build-up of traffic in the town centre. Its construction resulted in parts of old central Reading being demolished, changing the shape of the town forever. The talk will provide selective descriptions of some of the areas which were affected by the building of the IDR. This will make use of the photographic record produced by Doug Noyes of the before and after situation around Coley/Castle Street and the London Street/Queens Road area. Graham and Joe will highlight some of the key changes and discuss them in a Q&A session.
This talk is the last of three in the Spring Potpourri online talks series. Book all three talks in the series for £12.50 (members £10).   
Pre-booking is required, because the event link will be sent in advance.                             
To join this talk, you will need a computer device with speakers. Ideally, also a webcam and microphone. You also need to be able to access the internet from it. First-time users of Zoom, will be asked to download a small piece of software, which will be sent in advance. 
Image: The Inner Distribution Road, image courtesy of Joe Doak                                                                                                                                               
To book – scroll down.
Speakers
Graham Turner

Graham Turner spent 21 years of his youth living in Bright Street in Coley until construction was started on the I.D.R.. He is currently retired from the motor insurance industry after spending 41 years in various dealerships and 11 years as a claims engineer working on insurance warranties. During that time, he became a member of the Institute of the Motor Industry.

In early 2017, he started the Facebook group "History and Events of Coley, Reading" which has grown into a thriving and very active community.

Joe Doak

Joe Doak is undertaking doctoral research on the development and redevelopment of Huntley & Palmer's Biscuit Factory at the University of Reading, where he was formally an Associate Professor of Urban Planning and Development. He lived in Field Road (Coley) for 30 years and has recently moved to Dorchester in Dorset. He has supported Graham Turner for a number of years in his work on the history of Old Coley.