« Back to Index
War Memorial
by Margaret Young
The War Memorial in Windsor is situated next to the Parish Church of New Windsor, St John the Baptist, (to the left in the picture) in the High Street. Panels list those who died in the First World War.

Names of those who died in the Second World War are listed in the porch of the garrison church of Holy Trinity in Claremont Road.
OS ref SU969768
The Cross of Sacrifice in Windsor Cemetery in St Leonard's Road has no names but is dedicated to those who died in World War 1.
OS ref: SU957755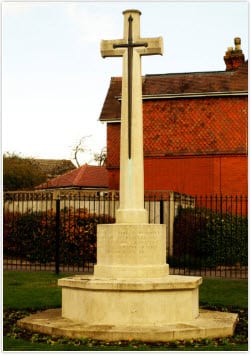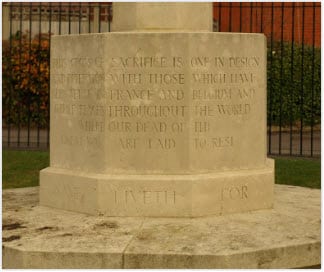 There are two World War 1 memorials to individuals in All Saints Church, Frances Road, Windsor, at OS grid reference SU965762. The first is an oak carved memorial …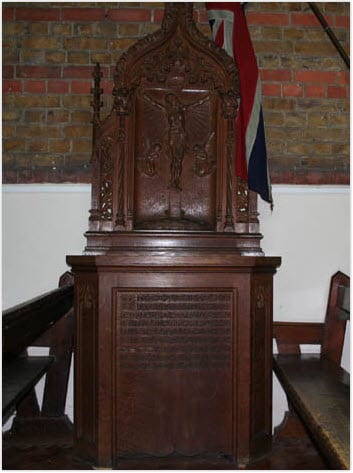 … and the second a stained glass window.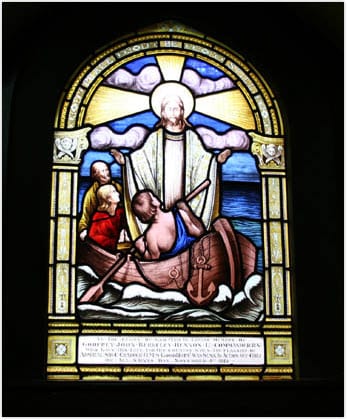 There are 3 war memorials in the King Edward VII Hospital in Windsor, which is at grid reference: SU 97311 76967.
A pair of memorials to World War 1 are to be found on one of the main corridors of the Out-Patients' Department. The department entrance is at the rear of the building and on entering go straight ahead, and the first plaques are in a slight alcove.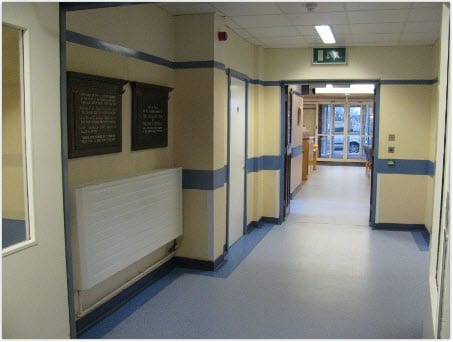 In addition, a memorial to a death in Rhodesia is outside the boardroom; follow this main corridor turning left towards the Hearing Clinic and the boardroom is to be found about halfway down on the left.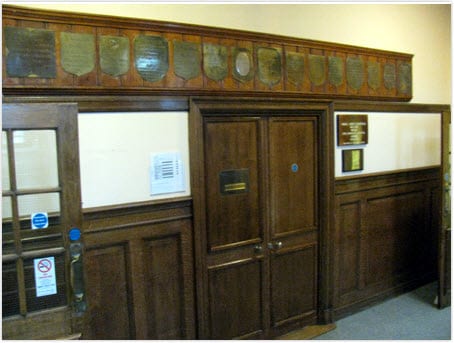 Additional photos and a full transcription is available on the publication Berkshire War Memorials available from the shop
« Back to Index