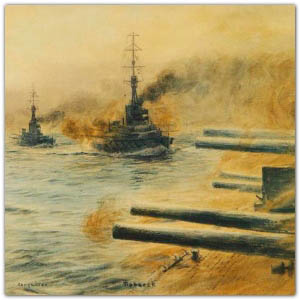 WW1 Navy Records for Family Historians Workshop
This workshop is designed for Family Historians who are researching their relatives who served in the Royal Navy, the Royal Marines, the Royal Naval Air Service and the Royal Naval Division during World War One.
WW1 saw a huge change in the Royal Navy with submarines and aircraft joining the fleet for the first time in a major conflict. We will look at some of these and what they meant to the men and women who served. We will look at the ranks and also the roles each rank undertook both onboard ship and ashore. Finally, we will unravel some of the terminology and jargon used.
Pre-booking is required as places are limited. Bookings close one day before the event.
To book scroll down.
Speaker
Richard Marks

Richard Marks

Richard Marks is a published historian based in Berkshire who specialises in military, industrial and railway history. His current areas of research are the aircraft and systems of the RAF, industrial development in the Victorian period, and the development of the railway and canal systems in Britain in the mid to late 19th Century. Richard is also currently researching a PhD in industrial history.