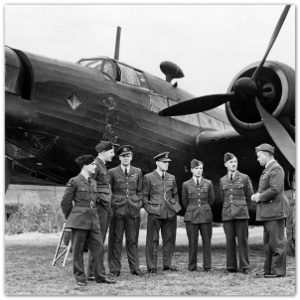 World War Two RAF Records Workshop
In this workshop, we will decipher some of the terminology used by the RAF which commonly crops up in both official and personal documents. We will look at how the RAF recruited and trained its men and women during the war. Also, what roles people undertook. We will look at how the air force was structured and how this can help the family historian identify what their relative did while enlisted. Also, the aircraft they may have encountered and prisoners of war. We will finally discuss what sort of records are available and where they might be found, as well as how to interpret them.
Pre-booking is required because places are limited. Bookings close one day before the event.
Please note this is a face to face workshop held in The Centre for Heritage and Family History, Reading. An online version using Zoom will take place later in the year. 
Please note that as this is a face to face talk, prevailing Coronavirus precautions will be in place. Please see: https://berksfhs.org/face-to-face-events-covid-security/
To book, scroll down.
The Non-members ticket sales has ended!
The Members ticket sales has ended!
Speaker
Richard Marks

Richard Marks

Richard Marks is a published historian based in Berkshire who specialises in military, industrial and railway history. His current areas of research are the aircraft and systems of the RAF, industrial development in the Victorian period, and the development of the railway and canal systems in Britain in the mid to late 19th Century. Richard is also currently researching a PhD in industrial history.