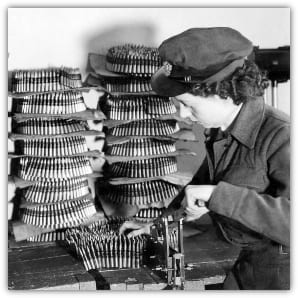 Women in World War Two – online talk
Enjoy this talk from the comfort and safety of your own home, whilst still being able to contribute fully to the discussion afterwards. 
Discover how the talents of women were integrated into the British war effort on the Home Front, in industry and in the Armed Services at every level during World War Two. Bill is a popular speaker and his talks are meticulously researched.
Pre-booking is required because full joining instructions will be emailed in advance. Bookings close one day before the event.
This talk is the fourth in the series "The Second World War". Buy all five talks in the series for the reduced price of four.
You will need a computer (or laptop/tablet) which has speakers and a microphone.  Ideally, also a webcam. You need to be able to access emails from this device. First-time users will be asked to download a small piece of software. This will be sent to you in advance. 
Image: Crown Copyright.
Sold out!
Speaker
Bill King

Bill King

Bills' main historical specialism is the Second World War, with particular reference to the role of Airborne and Special forces and in clandestine warfare. He has conducted extensive research on the role of the British Resistance Organisation (Auxiliary Units) and has contributed to the books 'With Britain in Mortal Danger' (2002) and 'Churchill's Underground Army' (2008).

Bills interests and research has led him to contributing articles to 'After the Battle' magazine and to elements of the books 'D-Day – Then and Now', 'Operation Market – Garden – then and now' and 'Glenn Miller in Britain – Then and Now'. He is a former Chairman of the Ridgeway Military and Aviation Research Group (RMARG) and is a member of The Western Front Association and of the Military Vehicle Trust.

Bill has appeared on radio and TV on many occasions, including Countryfile' on BBC1, 'History Mysteries' on BBC2, the Channel 4 series 'Dads Secret Army', the Channel 5 Select series 'Secrets of the National Trust', and 'The Thames, Britain's Great River' with Tony Robinson. In addition, Bill is a regular speaker throughout Wiltshire, Berkshire, Gloucestershire, Oxfordshire and Dorset.