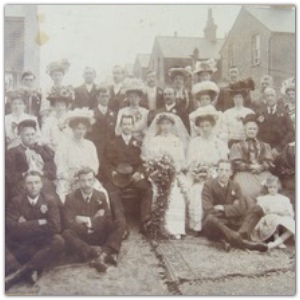 With Whom Did Your Ancestors Meet? – They Didn't Live in a Vacuum (BAM)
Many family histories compiled by enthusiasts, recounting basic data on their ancestors, do merely that, resulting in dry pedigrees with bland, colourless texts – the lifestyles of those ancestors, vibrant or mundane, are totally missing.  
Yet few ancestors lived in isolation: besides being born, possibly marrying, and ultimately dying, they worked or relaxed somewhere and most were influenced by their environment, their neighbours and by local, national, even international events.  
In this illustrated lecture Dr Chapman offers suggestions to enliven a family history by incorporating characters and events that, with a bit of further research, are retrievable from contemporary documents.
This talk will follow a short Branch Annual Meeting.
Non Members are welcome.  Pre-booking is preferred but not essential.
Speaker
Dr. Colin Chapman

Life Vice President of the Family History Federation. Fellow and Vice President of the Society of Genealogists

Dr. Colin Chapman is a retired professional engineer and scientist who has been interested in family history since the age of 7. He founded or co-founded six British-based family history societies, is now President of three and Patron of another. Successively he was Assistant Secretary, General Secretary, Chairman and now a Life Vice President of the Family History Federation. He is a Fellow of the Society of Genealogists, and is currently one of its Vice Presidents. He originated the three-letter Chapman County Code for British Isle counties which formed the basis of a British and now International Standard, familiar to genealogists, geographers and statisticians globally. Dr. Chapman has written 14 genealogically-related books which form the basis for his lecture that he delivers worldwide.