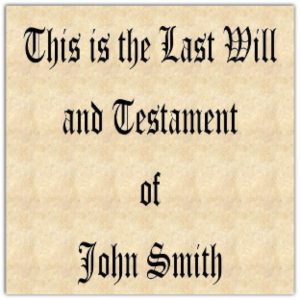 Wills for Family History
From ancient to modern, local to house, rich and poor, Wills are an all embracing resource not restricted just to Family History.  A detailed probate record can be full of names, personal details and interests, as well as who did or didn't get what. They can provide many clues and signposts to additional source material to build up a family tree and extend any research project.  True; not everyone did make a Will and if they did you'll need some reading handwriting skills, but why not check available indexes just in case – you might be surprised at what you find.
Perhaps the third most useful source after certificates and census, wills are a personal insight into relationships and possessions. Find indexes and associated records, order copies and read the documents.
This talk is free to members of Berkshire Family History Society and we request a donation of £3 from non-members. Pre-booking is required, because the meeting link will emailed in advance. Booking ends one day before event. 
To join in this branch meeting, you will need a computer device which has a microphone and speakers. Ideally, also a webcam. You also need to be able to access emails from this device. First time users will be asked to download a small piece of software to join the meeting.  The meeting link will be emailed to you in advance. Technical help is available for those who need further assistance, please contact  .
The Non-members ticket sales has ended!
The Members ticket sales has ended!
Speaker
Jackie Depelle

Family History Tutor, Speaker, Consultant & Event Organiser

A regular virtual speaker at shows and to groups across the country, Jackie supports Family & Local History societies and the Guild of One Name Studies through membership and via her former role as Chairman of the Yorkshire Group of Family History Societies. She now also runs many online courses mainly for the WEA and other education providers. A regular speaker at major events such as WDYTYA-Live and RootsTech Connect, Jackie has also run dedicated workshops for Archives, Country Houses, Libraries, Museums and Universities.