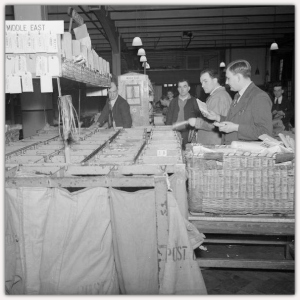 Was your ancestor a public servant?
Postal employees, Customs officers in ports and Excise officers all over the country  for example are mentioned in public records with often significant amounts of personal information to be found about them and their families. There are few guides to help family historians where to search. It is not widely known that the Society of Genealogists holds original establishment records for  Customs and Excise officials covering the period from the 1860s into the 20th century. This talk will cover the main categories of public servant and give a background on where to go to find out more about them.
This talk is free to members of Berkshire Family History Society, and we request a donation of £5 from non-members. Pre-booking is required, because the meeting link will be emailed in advance. Booking ends one day before event. 
To join in this combined branches' meeting, you will need a computer device which has a microphone and speakers. Ideally, also a webcam.  You also need to be able to access emails from this device. First time users will be asked to download a small piece of software to join the meeting. The meeting link will be emailed to you in advance. Technical help is available for those who need further assistance, please contact bo*****@be******.uk
Image: Middle East Mail – the Post Office in Wartime, 1940 (Ministry of Information Photo Division Photographer, Public domain, via Wikimedia Commons)
Speaker
Alan Ruston

Hertfordshire-based lecturer, speaker and writer

Alan has been involved in lecturing, speaking and writing on family history for over 30 years. A regular speaker at Society of Genealogists he has written two books in their My Ancestor was … series. He is Vice President Herts FHS, former Editor of their journal as well office holder in several Societies involved in Hertfordshire history. His other specialist areas are the history of nonconformity, plus the popular theatre.