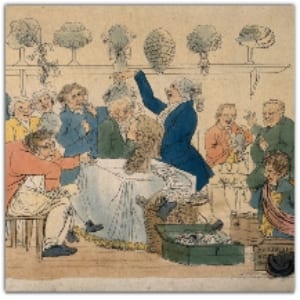 Unusual Occupations
Do you have a bodger ancestor? How about a cordwainer? or a costermonger? All our ancestors had an occupation, paid or unpaid, and some were more unusual, or unusually named, than others. 
How about sharing an occupation you have found? Whether it be through your researches, whilst being sidetracked or when browsing.
If you'd like to be involved, please email .
This talk is free to members of Berkshire Family History Society and we request a donation of £3 from non-members. Pre-booking is required, because the meeting link will be emailed in advance. Booking ends two days before event. 
To join in this branch meeting, you will need a computer device which has a microphone and speakers. Ideally, also a webcam. You also need to be able to access emails from this device. First time users will be asked to download a small piece of software to join the meeting.  The meeting link will be emailed to you in advance. Technical help is available for those who need further assistance, please contact  .
Image: Credit: In a crowded salon, a wigmaker fits wigs according to occupation; representing the character stereotyping of Gall's phrenology. Coloured etching by J.E. Marcus after J. Smies, c. 1810. Credit: Wellcome Collection. Attribution 4.0 International (CC BY 4.0)