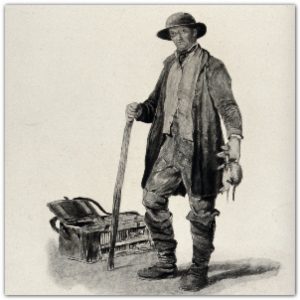 Trade and occupation sources
Join us online for an evening learning about methods to research trades. David Cufley will be using examples for brickmakers, ratcatchers and calico printers to show how to find the records, and what you can get from them.
This talk is free to members of Berkshire Family History Society and we request a donation of £3 from non-members. Pre-booking is required, because the meeting link will be emailed in advance. Booking ends one day before the event.
To join in this branch meeting, you will need a computer device which has a microphone and speakers. Ideally, also a webcam. You also need to be able to access emails from this device. First time users will be asked to download a small piece of software to join the meeting.  The meeting link will be emailed to you in advance. Technical help is available for those who need further assistance, please contact  .
Image: A Kentish rat-catcher (photomezzotint after a drawing by W. Collins. Wellcome Collection. Public Domain Mark)
Speaker
David Cufley

Kent based tutor and speaker

David Cufley is President of North West Kent Family History Society. He leads workshops and gives talks to family history and local history societies. A member of the Guide of One Name Studies and a number of other Family history Societies. He has researched his family since the late 1960s.