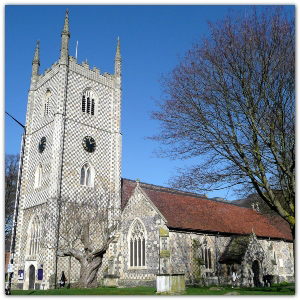 Tour of St Mary's Church, Reading
Update 23 Jan: rearranged date

The society's visits and walks are always very popular and this one takes us to St Mary's (the Minster). This is a church with a rich history. It may date back as far as the 7th century when tradition has St Birinus forming a small chapel on the site. Enjoy a guided tour of this important building and learn about its history and the notable families of Reading associated with it. Don't forget to check out the 150-year-old Indian Bean Tree in the churchyard, one of a number of significant trees planted there. The tour includes refreshments at St Mary's.
This is a rare opportunity to see this historic treasure. Places are limited and so early booking is recommended. 
The tour will be around 90 minutes in length. Attendees will be notified of the meeting point, by email, approximately a week before the walk.
Image: Reading St Mary, cropped, Tom Bastin from Reading, UK, CC BY 2.0  
To book, scroll down.
Booking closed for Member ticket
Booking closed for Non-Member ticket