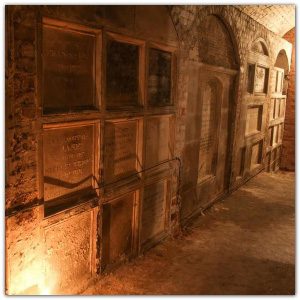 Tour of Holy Trinity Church, Reading
Holy Trinity Church stands on the Oxford Road in Reading, about 500 metres west of the town centre.  It was built in 1826 as a proprietary chapel, to the designs of local architect Edward Garbett. It appears in one of the earliest photographs ever taken by Henry Fox Talbot, in 1840. 
The church is grade II listed, mainly because of its chancel rood screen designed by Augustus Pugin. However, the church is packed with other fine furnishings. The high altar was designed by Martin Travers and the very tall Queen Anne pulpit, from which both Wesley brothers have preached, was rescued from Oxford. Below, lies its crypt with burial vaults dating back to the earliest years of the building's use. 
Churchwarden Ron Cutting will lead this tour. He will explain the history of the church and some of its more prominent parishioners. The tour will include a visit to the very fine crypt, which, for some, will be the highlight of this special visit.
This is a rare opportunity to see this historic treasure. Places are limited and so early booking is recommended. 
The tour will be around 60 minutes in length, and will be comply with prevailing Covid requirements. It may, therefore, be subject to last minute changes or cancellation. If this occurs, we will attempt to provide an alternative date, and if this isn't convenient, we will offer a full refund to effected ticket holders.
Attendees will be notified of the meeting point, by email, approximately a week before the walk.
Please note that as this is a face to face event, prevailing Coronavirus precautions will be in place. Please see: https://berksfhs.org/face-to-face-events-covid-security/
Images
Burial vaults in the crypt of Holy Trinity Church, Reading , reproduced with the kind permission of Callum Cromwell. Copyright Callum Cromwell. Church of England parish church of the Most Holy Trinity, Oxford Road, Reading, Berkshire, England: view of the south front – CC BY-SA 3.0.
To book scroll down
Booking closed for Non-members ticket
Booking closed for Members ticket