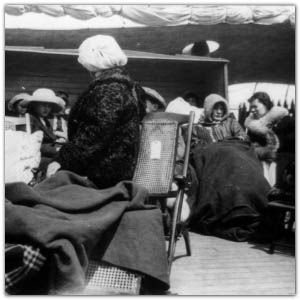 Titanic Effort! RMS Carpathia's dash to save a stricken liner
Named after the Carpathian mountain range, RMS Carpathia was a Cunard line transatlantic passenger steamship. It is probably best known for rescuing survivors of the rival White Star Line's RMS Titanic, after the latter struck an iceberg and sank with the loss of between 1,490 and 1,635 people in the North Atlantic Ocean. In dangerous conditions, the Carpathia navigated the ice fields, managing to arrive two hours after the Titanic had sunk, and enabling the crew to rescue 705 survivors from the ship's lifeboats. In 1918, the Carpathia in turn sank after being torpedoed three times by a German submarine. Find out more in this fascinating talk by Paul Barnett.
This talk is the second of three in the Winter Potpourri online talks series. Book all three talks in the series for £12.50 (members £10).   
Pre-booking is required, because the event link will be sent in advance.                             
To join this talk, you will need a computer device with speakers. Ideally, also a webcam and microphone. You also need to be able to access the internet from it. First-time users of Zoom, will be asked to download a small piece of software, which will be sent in advance. 
Image: Survivors on board the Carpathia, 1912 – Unknown author, Public domain, via Wikimedia Commons
To book – scroll down.
Speaker
Paul Barnett

Paul Barnett

Originally at sea in both the the Royal and then the Merchant Navy, Paul was drawn to the sea as the third son of a Newcastle sailor. He came ashore 1999 and embarked on a life long passion of researching various maritime subjects including Jutland, Scapa Flow, the Dunkirk little ships, Slapton Sands and Mulberry Harbour. He is currently employed in local government whilst also working hand in hand as a published author and historical speaker.