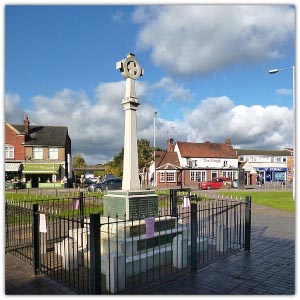 Tilehurst in World War Two
Was there any such thing as an "ordinary" community in WW2?  Mike Cooper looks at the experience of Tilehurst from newspaper and official records. Tilehurst was bombed, saw the arrival of US airborne troops, raised a Home Guard company and its people welcomed evacuees.  From as early as October 1939, the village suffered losses and was also organised as part of Civil Defence and food production.
This is the last of three talks in the World War Two Talks series. The other talks take place on 13th April and 11th May. You may book tickets for individual events or for all three talks in the series for a reduced price.  
After the talk, tea/coffee and cake will be available (included in the price). Pre-booking is preferred, but you can pay on the door, if there are spaces available.  
Image: Tilehurst War Memorial by Des Blenkinsopp – cropped – CC-BY-SA-2.0
To book, scroll down.
Speaker
Mike Cooper

Mike has had a lifelong interest in history, especially military and local history. Following a history degree at the University of Reading he worked as a librarian, with both the University and Reading Library. In addition to work on librarianship, he has had three books on the history of Reading published. Mike works for Reading Borough Council, and lives in Tilehurst with his wife and Moggy the Cat.