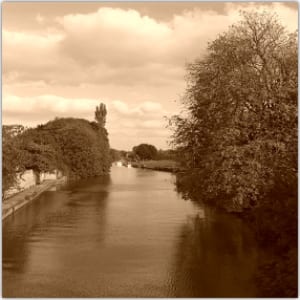 The Upper Thames Patrol
The Upper Thames Patrol were formed to defend the Thames when World War Two seemed inevitable. It became part of the Home Guard, when it was formed in 1940.
It was the Upper Thames Patrol's responsibility  to destroy the Thames' bridges and locks  if the enemy was seen approaching. They covered an area from Teddington Lock to Lechlade, which included 35 road bridges, 7 rail bridges and 42 locks. This often forgotten unit had their work cut out. This talk tells the story of the Upper Thames Patrol, their organisation, their experiences and the men who served in it.
Pre-booking is required for this talk because places are limited. Full joining instructions will be emailed to attendees in advance. Bookings close one day before the event.
This is the third talk of five in the Winter Potpourri of Social History Talks Series. Book all five talks in one multi-ticket for the discounted price of four.
To join this talk, you will need a computer device with speakers. Ideally, also a webcam and microphone. You also need to be able to access the internet from it. First-time users of Zoom, will be asked to download a small piece of software, which will be sent in advance. Technical help is available, please contact  
Image: Pam Brophy, The River Thames at Abingdon, CC BY-SA 2.0.
To book – scroll down.
Speaker
Bill King

Bill King

Bills' main historical specialism is the Second World War, with particular reference to the role of Airborne and Special forces and in clandestine warfare. He has conducted extensive research on the role of the British Resistance Organisation (Auxiliary Units) and has contributed to the books 'With Britain in Mortal Danger' (2002) and 'Churchill's Underground Army' (2008).

Bills interests and research has led him to contributing articles to 'After the Battle' magazine and to elements of the books 'D-Day – Then and Now', 'Operation Market – Garden – then and now' and 'Glenn Miller in Britain – Then and Now'. He is a former Chairman of the Ridgeway Military and Aviation Research Group (RMARG) and is a member of The Western Front Association and of the Military Vehicle Trust.

Bill has appeared on radio and TV on many occasions, including Countryfile' on BBC1, 'History Mysteries' on BBC2, the Channel 4 series 'Dads Secret Army', the Channel 5 Select series 'Secrets of the National Trust', and 'The Thames, Britain's Great River' with Tony Robinson. In addition, Bill is a regular speaker throughout Wiltshire, Berkshire, Gloucestershire, Oxfordshire and Dorset.