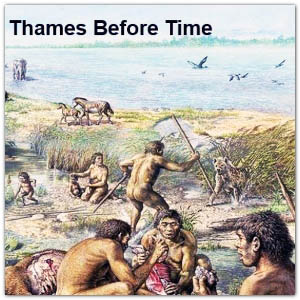 The Thames Before Time
Berkshire is privileged to have a close relationship with the River Thames. But what is the history of the river and its people, fauna and the landscape?  This talk looks at the way the river and the physical and human landscape have changed over the last two million years from the earliest inhabitants to the start of modern history. From the elephants who lived here 800,000 years ago, when it was a lot warmer, to the archaeological evidence of early settlements, find out more in this fascinating talk.
This talk is the third of three in the Winter Potpourri online talks series. Book all three talks in the series for £12.50 (members £10).   
Pre-booking is required, because the event link will be sent in advance.                             
To join this talk, you will need a computer device with speakers. Ideally, also a webcam and microphone. You also need to be able to access the internet from it. First-time users of Zoom, will be asked to download a small piece of software, which will be sent in advance. 
To book – scroll down.
Speaker
Rob Wallace

Rob Wallace

Rob Wallace is a keen amateur historian, with an interest in cartography, and has been a member of Project Purley for over 10 years. He and his family has lived in Purley for over 30 years. He works as an exploration consultant in the oil business and is a Chartered Geologist and is a member of several professional organisations.