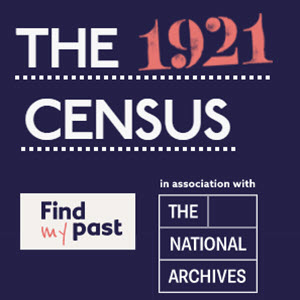 The new 1921 Census
The 1921 Census for England and Wales was launched on 6th January 2022.
The imaging and transcription of the 1921 Census schedules for England and Wales held by the National Archives has been performed by Findmypast who also tackled the 1911 Census and the 1939 National Register.
Our speaker, Mary McKee from Findmypast managed part of this process and is in a good position to explain more about the 1921 Census.
The 1921 Census will be particularly important because of the dislocation caused by the First World War. It will vastly expand our knowledge of this period compared to the very limited view we have had from electoral registers.
We will have a long time to wait for the next census to become available, and the 1931 Census schedules were destroyed during the Second World War and the 1941 Census never took place. By the way, the Scottish 1921 Census will follow in the latter half of 2022 and the next Irish Census will be that for 1926.
This talk is one of two similar talks which the society is hosting on the new 1921 Census, both given by census experts at Findmypast. The other talk is on Tuesday 25th January (Windsor Branch Meeting) – so choose the date which works best for you. 
This talk is free to members of Berkshire Family History Society and we request a donation of £3 from non-members. Pre-booking is required, because the meeting link will emailed in advance. Booking ends one day before event. 
To join in this branch meeting, you will need a computer device which has a microphone and speakers. Ideally, also a webcam. You also need to be able to access emails from this device. First time users will be asked to download a small piece of software to join the meeting.  The meeting link will be emailed to you in advance. Technical help is available for those who need further assistance, please contact bo*****@be******.uk
Booking closed for Member ticket
Booking closed for Non-member ticket