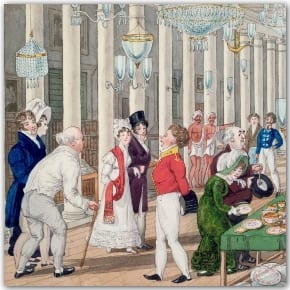 The Nabobs of Berkshire – Part 2
Nabobs were employees of the East India Company during the 18th and 19th centuries, who made their fortunes in India and returned home to England as wealthy men. So many made their home in Berkshire in the 18th century that the county became known as 'the English Hindoostan'.
This talk follows on from a previous talk on Nabobs given last year by Clive Williams, which was so well received that the audience asked to hear more stories. You don't need to have attended that talk to enjoy this one. There are 31 Houses in Berkshire with Nabob associations. This talk will focus on those associated with the east of the county.
This is the fourth in a series of five talks on the theme of "A Potpourri of History". The other talks take place on: 9th January, 23rd January, 6th February and 7th March. You may purchase tickets for individual events or for all five talks in the series for the reduced price of four.
The ticket price includes tea/coffee and cake after the talk. Advance booking is recommended but you can pay on the door (subject to availability). 
Speaker
Clive Williams OBE

Clive Williams OBE

Clive Williams currently chairs three Berkshire based charities and is secretary of two others. He was awarded the OBE for services to the Berkshire community in 1998. History has always been a passion and in 1994, he wrote "History of the Parish of Basildon" with a second edition appearing in 2004. He has followed that with "The Nabobs of Berkshire" and most recently "Shire Hall through the Looking Glass". He is also a keen sportsman, playing tennis and enjoying rambling throughout the year.