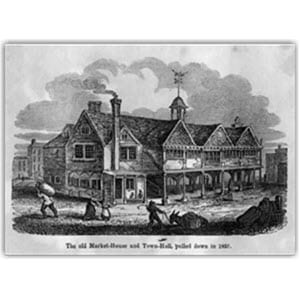 The Mayors of Newbury
Newbury's mayors enjoyed significant power before the reform of local government in the 1830s. They headed the corporation of 24 burgesses and also acted as the town's chief magistrate. In this webinar meeting, Anthony Pick will highlight some of the more interesting and unusual characters who have held this post.
Places are limited, and pre-booking is required. Joining instructions will be emailed in advance. Bookings close one day beforehand.
To enjoy this talk you will need a computer (or laptop/tablet) which has speakers and a microphone. Ideally, also a webcam. You also need to be able to access your emails from this device. First-time users will be asked to download a small piece of software, which will be sent in advance. For further technical help ask .
The Members ticket sales has ended!
The Non-members ticket sales has ended!
Speaker
Anthony Pick

Former West Berkshire councillor and past mayor of Newbury

Anthony Pick has a substantial record of service to heritage in Newbury, having chaired the Newbury National Trust Association (2007-12) and the town council's Heritage Working Group, which is responsible (with the Newbury Society) for its programme of blue plaques. He remains chairman of that group with the support of the present Newbury Town Council.

Anthony also chairs the West Berkshire Heritage Forum, a voluntary association of West Berkshire parish councils and heritage societies, in close association with West Berkshire Council. The Heritage Forum is responsible for managing West Berkshire Council's programme of local listing.

From 2011-19 Anthony served on Newbury Town Council, and on West Berkshire Council 2015-19. He was mayor of Newbury 2013-14, and became interested in the town's mayors who, since 1596, are listed on the wall of the town council chamber.