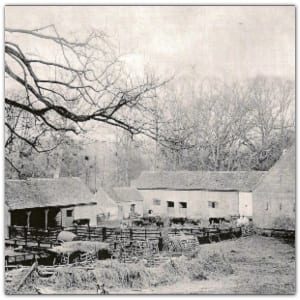 The Lloyd George Domesday and National Farm Surveys
The Inland Revenue Valuation Office Survey, 1910-1910 (Lloyd George Domesday) and The National Farm Survey, 1941-1943
Combined Branches' Special Meeting
Discover what the Inland Revenue Valuation Survey and National Farm Survey were, how they can be of use to house historians, local historians and family historians; where to find records and how to use them.
Taking its nickname from the Chancellor of the time, the Domesday Survey, or the Inland Revenue Valuation Office Survey as it was officially known, is a fantastic resource for house historians, social historians, and genealogists. The National Farm Survey was undertaken as a means of improving productivity during the war. The result was an in-depth analysis of 300,000 agricultural holdings.
The evening is free to members of Berkshire Family History Society and we request a donation of £3 from non-members.  Pre-booking is required because the meeting link will be e-mailed in advance.  Booking ends one day before the event. 
For those of you new to Zoom you will be asked to download a small piece of software when you first log on in order to join the meeting.  The download only takes 2 minutes.  You will need a computer device which has a microphone, speakers and ideally a webcam.  You will also need to be able to access e-mails from your device.  The meeting link will be e-mailed to you in advance.  Technical help is available for those who need further assistance.
For all queries related to this event and booking: bracknell@berksfhs.org.uk
The Member ticket sales has ended!
The Non-member ticket sales has ended!
Speaker
Gill Blanchard

Gill Blanchard

Gill Blanchard is a professional house historian, genealogist, writer, and tutor. She has an academic background in history, sociology and politics and has been a full time historical researcher since 1992. She set up her own research business called Past Search in 1997, qualified as an adult education tutor the following year, and is a full member of AGRA.

Gill is the author of several research guides, biographies and local histories, including Tracing Your House History, Tracing Your Ancestors: Cambridgeshire, Essex, Norfolk and Suffolk, and Writing Your Family History (Pen and Sword Books). She is a regular contributor to national family history magazines and other journals and has conducted much background research for authors, journalists and academic researchers, including the BBC Who Do You Think You Are? television series.