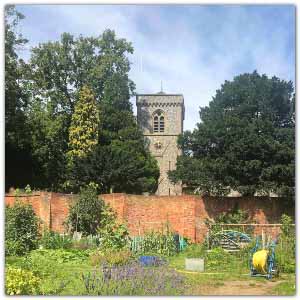 The Kitchen Garden of Caversham Court
The online talk will look at how kitchen gardens have evolved over time from early monastic plots to the grand walled gardens of the Victorian era. Using the walled gardens at Caversham Court, in Caversham, as an example, it also follows how many have survived the passage of time to become allotments.  Valued plots which provide a source of folklore, amusing techniques, fine food and friendship.
Pre-booking for this talk is required because places are limited. Full joining instructions will be emailed to attendees in advance. Bookings close one day before the event.
This is the first talk of five in the Spring Potpourri of Social History Talks Series. Book all five talks in one multi-ticket for the discounted price of four.
To join this talk, you will need a computer device with speakers. Ideally, also a webcam and microphone. You also need to be able to access the internet from it. First-time users of Zoom, will be asked to download a small piece of software, which will be sent in advance. Technical help is available, please contact  
To book – scroll down.
The Non-members ticket sales has ended!
The Members ticket sales has ended!
Speaker
Dr John Evans

Dr John Evans

Hailing from mid-Wales, John spent his working life in agriculture advising farmers on plant diseases and their control, and more recently, working for Government in Westminster on farming policy and running their agricultural laboratories. He has been a volunteer at Caversham Court Gardens for the last six years having moved to Caversham from South Wales where he was active in Britain in Bloom. He has a great interest in the history of the gardens and of the families who lived in the houses there.