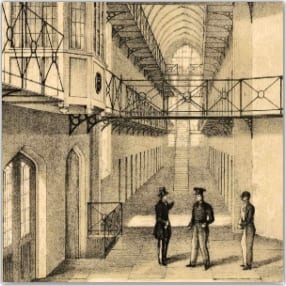 The History of Reading Gaol
County Archivist and Berkshire Family History Society Vice-President, Mark Stevens, explores the history of the prison from the Georgian period until its first closure in 1920.
Find out about the separate system of 'hard labour, hard board and hard fare' that characterised the Victorian regime; before hearing about Oscar Wilde, some of the prison's executions and Reading's little-known role in the Easter Rising.
This is the second in a series of five talks on the theme of "Institutions". The other talks take place on: 10th October, 9th November, 21st November and 5th December. You may purchase tickets for individual events or for all five talks in the series for the reduced price of four.
The ticket price includes tea/coffee and cake after the talk. Advance booking is recommended but you can pay on the door (subject to availability). 
Speakers
Mark Stevens

County Archivist for Berkshire

Mark is Berkshire's county archivist.

He grew up in Maidenhead and has a lifelong love of history in the Royal County. He is particularly interested in historic mental health care and the people who received it and is the author of two related books: "Broadmoor Revealed" and "Life in the Victorian Asylum".

Mark was elected as vice-president of the Berkshire Family History Society in 2016.