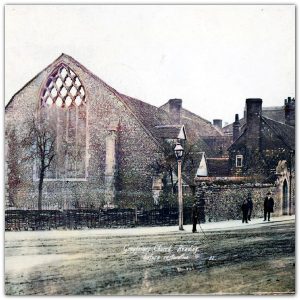 The history of Greyfriars Church, Reading
Greyfriars Church, in Reading, started life as part of a larger Franciscan friary church, within a complex of other buildings – a chapter house, cloister, dormitory and others. When the friary was closed down under Henry VIII, the nave survived. After half a century as Reading's town hall, it was used as a poor house, barracks in the civil war, and a prison. There was even a pub attached to it, where the south transept is now. In 1863, it re-opened as a parish church, restored and enlarged.
This well-illustrated talk covers its rich and varied history from the arrival of the first friars in the town, to the present day redevelopment of the site.
Pre-booking is required because places are limited. Full joining instructions will be emailed to attendees in advance. Bookings close one day before the event.
This is the final talk of five in the Autumn Potpourri of Social History Talks Series. Book all five talks in one multi-ticket for the discounted price of four.
To join this talk, you will need a computer device with speakers. Ideally, also a webcam and microphone. You also need to be able to access the internet from it. First-time users of Zoom, will be asked to download a small piece of software, which will be sent in advance. Technical help is available, please contact
Image: courtesy of Malcolm Summers. Greyfriars before restoration as a church, circa 1860. At this time it was the town's bridewell, that is a prison.
To book – scroll down.
The Non-members ticket sales has ended!
The Members ticket sales has ended!
Speaker
Malcolm Summers

Malcolm Summers

Malcolm Summers is a retired maths teacher and Deputy Head. Originally from Birmingham, he has lived in Reading for forty years, and is married with two grown up children. He wrote "History of Greyfriars Church, Reading" in 2013, and "Reading's Grey Friars" in 2020. The latter book describes the Franciscan friary from 1233 to 1538, while the former book tells the story of the friary's sole visible remains. In 2019, Two Rivers Press published his book "Signs of the Times: Reading's Memorials". Malcolm has also written two biographies: "Henry George Willink" (after whom the school in Burghfield Common is named) and "Nicolas Appert", the French inventor of the process of preserving food by canning (and who is also his wife's great great great great grandfather). He is researching and writing a biography of Thomas Noon Talfourd.

Malcolm has been a member of Greyfriars Church since 1981, and is currently its PCC secretary. He is also the treasurer of the History of Reading Society and of Kisiizi Partners, a UK Charity that supports a Hospital and community in south west Uganda.