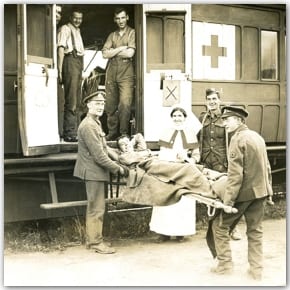 The Friends Ambulance Unit in WW1 & 2
The Friends' Ambulance Unit (FAU) was a volunteer ambulance service, founded by individual Quakers, in line with their Peace Testimony.  It operated during both World Wars and beyond, in many countries in Europe, Asia and Africa.
Sue Smith will talk about the FAU in both wars, and tell the stories of individual conscience and action in opposing war and preparations for war. 
This is the second in a series of five talks on the theme of "A Potpourri of History". The other talks take place on: 9th January, 6th February, 20th February and 7th March. You may purchase tickets for individual events or for all five talks in the series for the reduced price of four.
The ticket price includes tea/coffee and cake after the talk. Advance booking is recommended but you can pay on the door (subject to availability). 
Image – copyright Religious Society of Friends (Quakers)
Speaker
Sue Smith

Sue Smith

Sue Smith has a personal interest in the Friends Ambulance Unit and its history, as her parents were members in the Second World War. She gained a Masters in Historical Studies at Oxford University, and her dissertation focused on the conscientious objectors of Oxfordshire in the First World War. She lives in Oxford, and worked for Oxfam for 20 years.